A Snapshot of Endometrial Cancer
Incidence and Mortality
Endometrial cancer is both the most common type of uterine cancer and the most common cancer of the female reproductive system, accounting for approximately 6 percent of all cancers in women in the United States. Since 2002, overall incidence rates have not changed significantly, whereas mortality rates have been slowly rising since 2001. Although the incidence rate of endometrial cancer is only slightly higher in African American women than in whites, the mortality rate of African American women is nearly twice as high as that of all other racial/ethnic groups.
Several factors are associated with an increased risk of endometrial cancer, including obesity, exposure to endogenous or exogenous estrogens, tamoxifen use, and certain inherited conditions. Factors associated with a reduced risk include engaging in physical activity, taking oral contraceptives that combine estrogen and progestin, and having a history of pregnancy and/or breastfeeding. Surgical removal of the uterus or hormone therapy may be used to prevent endometrial cancer in women with endometrial hyperplasia. There is no standard or routine screening test for endometrial cancer. Standard treatments for endometrial cancer include surgery, radiation therapy, chemotherapy, hormone therapy, and biologic therapy.
Assuming that incidence and survival rates follow recent trends, it is estimated that $2.6 billion1 will be spent on uterine cancer care in the United States in 2014.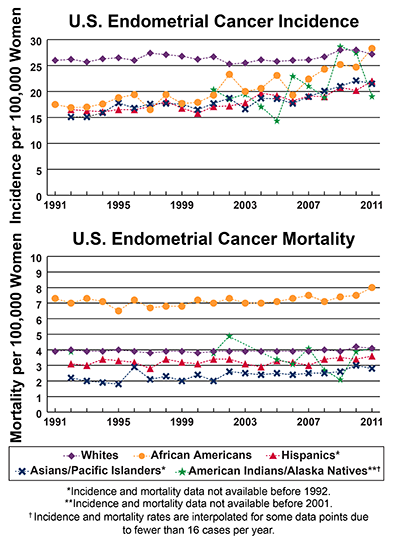 NCI's Investment in Endometrial Cancer Research
To learn more about the research NCI conducts and supports in endometrial cancer, visit the NCI Funded Research Portfolio (NFRP). The NFRP includes information about research grants, contract awards, and intramural research projects funded by NCI. When exploring this information, it should be noted that approximately half of the NCI budget supports basic research that may not be specific to one type of cancer. By its nature, basic research cuts across many disease areas, contributing to our knowledge of the underlying biology of cancer and enabling the research community to make advances against many cancer types. For these reasons, the funding levels reported in NFRP may not definitively report all research relevant to a given category.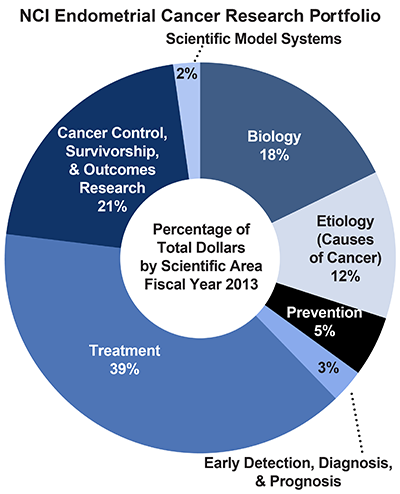 Other NCI programs and activities relevant to endometrial cancer include:
Selected Advances in Endometrial Cancer Research
Genomic characterization of endometrial tumors identified four genetic sub-types, which may set the stage for new diagnostic and treatment approaches. Published May 2013. [PubMed Abstract]
Inhibition of a target activated by a key signaling pathway blocked the growth of human endometrial tumor cells in culture and caused complete or partial regression of some tumors derived from these cells in a mouse model. Published August 2013. [PubMed Abstract]
Analysis of cells obtained from a standard saline-infused sonogram of the uterine cavity in patients with suspected endometrial cancer may help some patients avoid the costly and painful follow-up procedures required for diagnosis. Published September 2013. [PubMed Abstract]
In a preclinical mouse model, endometrial tumors with a common mutation in the tumor suppressor PTEN were sensitive to the targeted therapy olaparib in low-estrogen conditions but not in high-estrogen conditions, suggesting that therapies combining olaparib and hormone ablation may be effective in endometrial cancer patients with this mutation. Published November 2013. [PubMed Abstract].
Additional Resources for Endometrial Cancer
---