A Snapshot of Esophageal Cancer
Incidence and Mortality
Esophageal cancer consists of two primary cancer types, esophageal adenocarcinoma and esophageal squamous cell carcinoma. Esophageal adenocarcinoma is more common in the United States. Men of all racial and ethnic groups have higher esophageal cancer incidence and mortality rates than women. Historically, African American men have had higher esophageal cancer incidence and mortality rates than white men; however, increasing incidence and mortality rates in white men and a steady decline among African American men in the past decade have reversed this trend. A downward trend in mortality has not been observed for any other racial/ethnic group.
Risk factors for esophageal cancer include tobacco use, alcohol use, having Barrett's esophagus or gastric reflux disease, and increasing age. Common signs of esophageal cancer include painful or difficult swallowing and unexplained weight loss. There are no standard or routine screening tests for esophageal cancer. Tests and procedures that are used to detect and diagnose esophageal cancer include a physical examination, upper endoscopy, chest x-ray, and a barium swallow test. Standard treatment options for esophageal cancer include surgery, radiation therapy, chemotherapy, chemoradiation therapy, laser therapy, and electrocoagulation.
Assuming that incidence and survival rates follow recent trends, it is estimated that $1.6 billion1 will be spent on esophageal cancer care in the United States in 2014.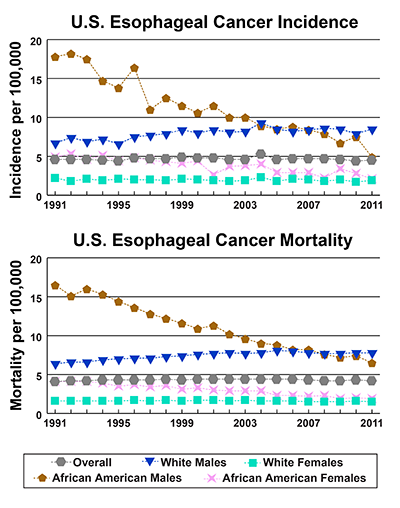 NCI's Investment in Esophageal Cancer Research
To learn more about the research NCI conducts and supports in esophageal cancer, visit the NCI Funded Research Portfolio (NFRP). The NFRP includes information about research grants, contract awards, and intramural research projects funded by NCI. When exploring this information, it should be noted that approximately half of the NCI budget supports basic research that may not be specific to one type of cancer. By its nature, basic research cuts across many disease areas, contributing to our knowledge of the underlying biology of cancer and enabling the research community to make advances against many cancer types. For these reasons, the funding levels reported in NFRP may not definitively report all research relevant to a given category.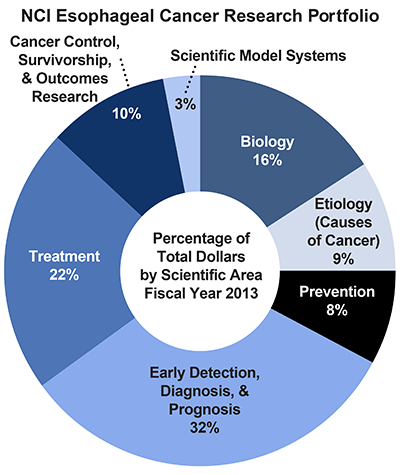 Other NCI programs and activities relevant to esophageal cancer include:
Selected Advances in Esophageal Cancer Research
Additional Resources for Esophageal Cancer
What You Need To Know About™ Cancer of the Esophagus
Describes treatment options, types of cancer doctors, second opinion, follow-up care, and sources of support for someone recently diagnosed with esophageal cancer.
Esophageal Cancer Home Page
NCI's gateway for information about esophageal cancer.
Esophageal Cancer Treatment (PDQ®)
Expert-reviewed information summary about the treatment of esophageal cancer.
Clinical Trials for Esophageal Cancer
---