A Snapshot of Kidney Cancer
Incidence and Mortality
Kidney cancer incidence increased from 1997 to 2008 before leveling off. The increase in incidence since the late 1990s reflects a rapid increase in early-stage disease that has been attributed in part to incidental diagnosis during abdominal imaging and may not represent a true increase in cancer occurrence. The overall mortality rate has fallen an average of 0.6 percent each year since 2001. Kidney cancer incidence and mortality rates are twice as high in men as in women. American Indians/Alaska Natives have higher kidney cancer incidence and mortality rates than any other racial or ethnic group in the United States.
The main risk factors for kidney cancer are smoking, obesity, high blood pressure, and having certain inherited conditions. There are no recommended tests to screen for kidney cancer in people who are not at average risk of this disease. Computed tomography (CT) and magnetic resonance imaging (MRI) scans are used to look for kidney cancer in people with an inherited condition that places them at high risk. Standard treatments for kidney cancer include surgery, radiation therapy, chemotherapy, biological therapy, and targeted therapy.
Assuming that incidence and survival rates follow recent trends, it is estimated that $4.8 billion1 will be spent on kidney cancer care in the United States in 2014.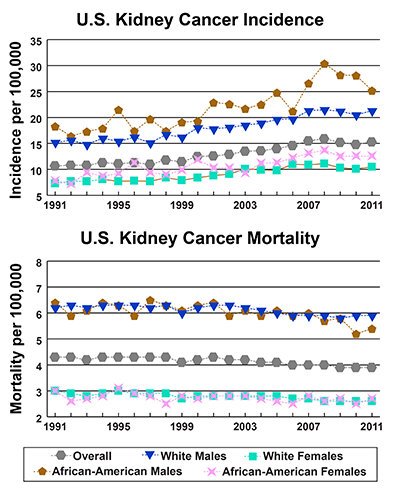 NCI's Investment in Kidney Cancer Research
To learn more about the research NCI conducts and supports in kidney cancer, visit the NCI Funded Research Portfolio (NFRP). The NFRP includes information about research grants, contract awards, and intramural research projects funded by NCI. When exploring this information, it should be noted that approximately half of the NCI budget supports basic research that may not be specific to one type of cancer. By its nature, basic research cuts across many disease areas, contributing to our knowledge of the underlying biology of cancer and enabling the research community to make advances against many cancer types. For these reasons, the funding levels reported in NFRP may not definitively report all research relevant to a given category.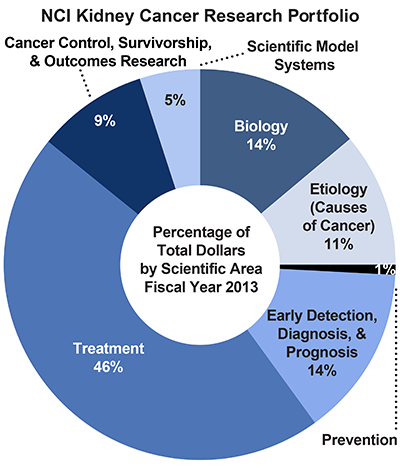 Other NCI programs and activities relevant to kidney cancer include:
Selected Advances in Kidney Cancer Research
Additional Resources for Kidney Cancer
---