Global Health Events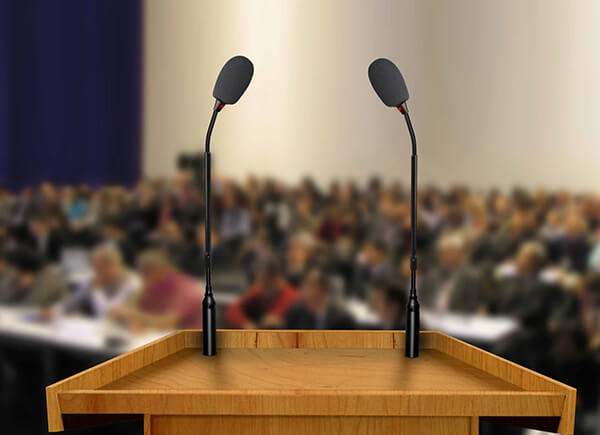 In an effort to fulfill our mission to advance global cancer research, we sponsor and participate in a number of global health events for both national and international audiences. Although events vary by region and topic, they all focus on the open exchange of scientific knowledge.
Upcoming Events
Affordable Cancer Technologies Program Principal Investigator Meeting
Cancer Detection, Diagnosis, and Treatment Technologies for Global Health

May 10-11, 2018
Location: Bethesda, Maryland
The National Cancer Institute, in collaboration with the National Institute of Biomedical Imaging and Bioengineering, supports the translation of resource-appropriate technologies for global health through the Affordable Cancer Technologies Program. The NCI Center for Global Health will host the Affordable Cancer Technologies Program Principal Investigator Meeting: Cancer Detection, Diagnosis, and Treatment Technologies for Global Health on May 10-11, 2018 to highlight the impact of research on early detection, diagnosis, and non-invasive or minimally invasive treatment of cancer. Learn more about the Affordable Cancer Technologies Program.
Eurasian Cancer Screening Conference 2018
May 17-18, 2018
Location: Minsk, Belarus
CGH is partnering with N.N. Alexandrov National Cancer Center of Belarus and WHO Collaborating Center for Cancer Screening and Early Detection to organize a cancer screening conference focused on the needs and priorities of the Commonwealth of Independent States (CIS), including countries in Central and Eastern Europe, Baltics, Caucasus and Central Asia, in response to growing interest and participation in cancer screening research and implementation in the region. The Eurasian Cancer Screening Conference 2018 (ECSC 2018) will address themes in cancer screening relevant to the CIS, in the areas of cervical, breast, colorectal and prostate cancer. ECSC 2018 is an opportunity for cancer screening researchers, program implementers, and decision makers to exchange best practices and discuss the evidence available for the implementation and evaluation of effective cancer screening strategies that could have a positive impact on the cancer burden in the region. In addition, it will offer an opportunity for U.S.-based cancer screening researchers to gain knowledge on strategies and success stories of CIS cancer screening programs, especially considering cancer types for which screening programs are not in place in the USA and where the evidence is still developing, such as prostate cancer; researchers will also discuss the feasibility of cancer screening research projects that may have applications to U.S. settings and populations. Register now: http://ecsc2018.org/
Past Events
2018 International Cancer Research Partnership Annual Meeting
April 11, 2018
Location: Bethesda, Maryland
Organizations funding cancer research around the world will attend the International Cancer Research Partnership's 2018 annual meeting on Wednesday April 11th, 2018 at the NCI/NIH Campus, Bethesda, MD. The meeting will be hosted by the US National Cancer Institute and the US Congressionally-Directed Medical Research Programs. The theme is "Advancing cancer research through global partnership" and with US and international will address trends in cancer research over the last ten years, gaps and opportunities moving forward, innovative co-funding strategies to promote cross-sector and international collaboration, and will include an opening welcome from Dr. Doug Lowy, Deputy Director of NCI, and Dr. Michelle Bennett, Director of NCI-Center for Research Strategy. ICRP is a unique alliance of cancer organizations (currently representing over 120 major cancer research funders and institutions) working together to enhance global collaboration and strategic coordination of research and to improve access to information about cancer research. Representatives of cancer research funding organizations may register at https://www.eventbrite.com/e/icrp-2018-annual-meeting-open-day-tickets-38837881148. For further information, contact operations@icrpartnership.org or visit https://www.icrpartnership.org/.
6th Annual Symposium on Global Cancer Research
Global Cancer Research: Addressing Disparities, Locally and Globally
March 15, 2018
Location: New York, New York
The 6th Annual Symposium on Global Cancer Research will be held on March 15 ,2018, prior to the start of the 9th Annual Consortium of Universities for Global Health (CUGH) Global Health Conference. The Symposium's primary sponsors and organizers are New York University's Perlmutter Cancer Center at NYU Langone Health and the National Cancer Institute Center for Global Health with additional sponsorship and planning support from the Albert Einstein College of Medicine, Herbert Irving Comprehensive Cancer Center at Columbia University, Memorial Sloan Kettering Cancer Center, Mount Sinai Icahn School of Medicine, Rutgers Global Health Institute and the Rutgers Cancer Institute of New Jersey, Yale Comprehensive Cancer Center, and CUGH. The objectives of this full-day Symposium on Global Cancer Research are to provide: 1) A comprehensive overview of the role of research in addressing local and global disparities in cancer care and control; 2) A stimulating and engaging forum for knowledge sharing; and 3) An environment that facilitates new collaborations to advance our knowledge and practice aimed at overcoming cancer disparities. Abstracts can be submitted until December 12, 2017 at https://easychair.org/cfp/ASGCR6
2nd Regional Centers of Research Excellence Principal Investigator Scientific Strategic Planning Meeting
February 6-8, 2018
Location: Bethesda, Maryland
The Annual Regional Centers of Research Excellence PI Scientific Strategic Planning Meeting will bring together extramural investigators with NCI program staff to discuss best approaches for tackling cancer research problems that are a concern in the U.S., but don't have the preponderance of disease to study them. These cancers tend to be common and a burden to unique populations in low- and middle-income countries. Areas of discussion will include biobanking, pathology, research training, and various organ-specific cancers. Additionally, we will disseminate and clarify the NCI and NIH policies around the financial management of NIH grants and the regulations related to research involving human subjects.
2017 Africa Cancer Control Leadership Forum Meeting
November 6, 2017
Location: Kigali, Rwanda
CGH will convene the culminating meeting for the 2017 Africa Cancer Control Leadership Forum, alongside the AORTIC Conference in Kigali, Rwanda. Hosted in partnership with the World Bank, this videoconference will take place at the World Bank Rwanda country office, with videoconference connection with the participating Africa Leadership Forum countries, and World Bank headquarters in Washington, DC. The Africa Cancer Control Leadership Forum is a series of live webinars to support participating countries to increase the capacity to initiate or enhance cancer control planning and implementation. This final meeting allows the multi-stakeholder country teams and partner institutions to reflect on the highlights of this knowledge exchange, and to map out how to integrate this information and additional opportunities ahead.
AORTIC International Conference on Cancer in Africa: Making Strides, Creating Solutions
November 7-10, 2017
Location: Kigali, Rwanda
CGH, along with other NCI Divisions, Offices, and Centers, will be presenting and facilitating at the African Organization for Research and Training in Cancer (AORTIC) 11th International Conference on Cancer in Africa: Making Strides, Creating Solutions. This year's conference brings together multidisciplinary specialists from the global cancer community to reduce the impact of cancer in Africa. NCI sponsored sessions include:
The AORTIC and NCI Beginner Investigator Grant for Catalytic Research Program
Adapt, Engineer, Apply -Translational Research on Affordable Technology in Global Oncology
Advancing the Translation of Evidence to Policy
Esophageal Cancer Research
HIV Associated Malignancies Roundtable
Throughout the conference, CGH has planned side meetings to strengthen the center's partnerships and support the collaborative programs with the Kenya Stakeholder Program, Uganda Cancer Institute, and NCI funded grantees in Africa. In addition, NCI/CGH will host a booth with materials and representatives from International Cancer Research Partnership, and featuring opportunities for conference goers to demo a new Field Epidemiology Training Program Cervical Cancer Module, "Meet the Experts" in biobanking, cancer screening, and more! Contact kalina.duncan@nih.gov with questions or for more information.
Cancer Research in the Media: International Workshop for Scientific Journalism
November 8-9, 2017
Location: Mexico City, Mexico
CGH and the NCI Office of Communications and Public Liaison, in collaboration with Instituto Nacional de Cancerología, Mexico, are holding Cancer Research in the Media: International Workshop for Scientific Journalism (CRiM) in Mexico City, Mexico. This workshop will engage media in the region to enhance their understanding of and ability to effectively report on health and cancer research topics, and increase awareness of cancer prevention, screening, and treatment. In addition, CRiM aims to increase journalists' understanding of complex scientific findings; improve their ability to evaluate the source and credibility of cancer research; and, consequently, better communicate that information to the public.
International Congress: Progress and Controversies in Gynecological Oncology and Breast Cancer
October 4-5, 2017
Location: Almaty, Kazakhstan
The Kazakh Institute of Oncology and Radiology and Association of Oncologists of Kazakhstan will host the 2017 International Congress: Progress and Controversies in Gynecological Oncology. The Congress is a follow up on the 1st International Conference: Current Concepts & Controversies in Gynecological and Urologic Oncology held in Minsk, Belarus, in April 2017. Its goal is to improve the region's access to quality oncology services through both international collaboration and the creation of a research platform in women's cancer care. The meeting will offer collaborative educational sessions, including cervical cancer prevention, surgical techniques, chemotherapy and radiation therapy for two full days. Dr. Edward L. Trimble, Director of the Center for Global Health, NCI, USA, will present the Center's role in the newly developed women's cancer control program, highlighting an excellent opportunity to develop collaboration among US NCI and Commonwealth of Independent States (CIS) cancer centers.
2nd U.S.-India Health Dialogue
September 26-27, 2017
Location: New Delhi, India
Dr. Lisa Stevens will represent NCI during the technical session on cancer at the 2nd U.S.-India Health Dialogue in New Delhi, India. She will discuss clinical research collaborations between the NCI and India with a focus on major cancers in India, region-specific cancer research, and cancer risk factor research specific to India. In other technical sessions, Dr. Stevens will discuss NCI partnerships on tobacco prevention in the context of cancer control, and showcase NCI supported development of affordable care technologies. These discussions will strengthen the existing research partnerships between the United States and India, and will generate new opportunities for collaboration.
Global Cancer Symposium
September 25, 2017
Location: Barretos, Brazil
Dr. Ted Trimble will present Cancer Prevention Research: Perspectives from the US NCI at the III Global Cancer Symposium, Barretos, Brazil on September 25, 2017. The Symposium brings together professionals, journalists, and students interested in global health, and includes a visit to IRCAD Latin America, Children's Hospital. Other invited speakers from partner institutions include Duke University, MD Anderson Cancer Center, UICC, American Cancer Society, and Susan G. Komen for the Cure. The focus of these presentations will be on cancer control and prevention, childhood cancers, and palliative care.
European Society for a Medical Oncology Annual Congress 2017
September 8-12, 2017
Location: Madrid, Spain
CGH will participate at the ESMO Annual Congress 2017 Special Session: Medical Oncology as a Contributor to Global Policy: How to Improve National Cancer Plans. This year's session aims to demonstrate the usefulness and successes in National Cancer Control Plan (NCCP) development when oncologists are part of the multi-sectorial team. Presentations will highlight European and Central Asian countries where oncologists have played a valuable role in NCCP development.
Asia-Pacific Economic Cooperation 2017: HPV and Cervical Cancer Conference
August 24-25, 2017
Location: Ho Chi Minh City, Vietnam
The primary goal of the Asia-Pacific Economic (APEC) HPV and Cervical Cancer Conference on "Data for Decision-Making" is to convene a high-level discussion on the use of empirical data from research studies to inform decision-makiing within the APEC economies, of which the United States is a member. Interactive sessions will include presentations and discussion on recent relevant scientific publications, study design and data collection, synthesis and interpretation results to draw evidence-based conclusions, dissemination of results, and use of results to inform program planning and policy making.
International Cancer Screening Network 2017 Biennial Meeting
June 19-21, 2017
Location: Bethesda, Maryland
The International Cancer Screening Network (ICSN) is a voluntary consortium of countries, organizations, and experts interested in promoting context-specific organized cancer screening through evidence-based strategies. The ICSN 2017 Biennial Meeting: Looking Back, Moving Forward will provide an opportunity for international experts to exchange knowledge, research methods, practice challenges, and results in the field of organized cancer screening; and, to prioritize, develop, and move forward research projects through interest and working groups.