Strengthening Capacity for Research for HIV-Associated Malignancies in Africa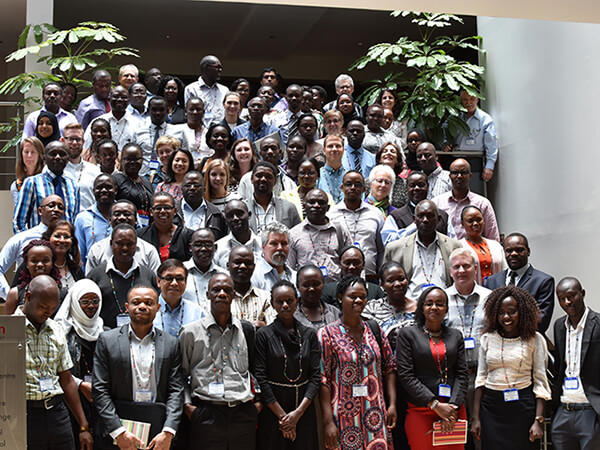 Sub-Saharan Africa is the epicenter of the HIV epidemic; it is also facing a concomitant rise in the incidence of HIV-associated malignancies.
NCI and the Fogarty International Center (FIC) have partnered in several efforts for developing research capacity in sub-Saharan Africa on HIV-associated cancers. Applications awarded in response to this RFA (RFA-CA-13-010) will support research projects that are primarily conducted in sub-Saharan Africa by African investigators. The eight applications being supported will conduct inter-disciplinary research on HIV-associated malignancies in sub-Saharan Africa that will be conducted by collaborative consortia between African institutions and institutions in the United States (U.S.). Each consortium will also develop future scientific leadership among the African investigators through career development activities, training, and mentoring. The eight U.S. grantees will partner with investigators from five different African countries (Malawi, Uganda (3 applications), Botswana, Tanzania, Kenya and Rwanda).
The ultimate goal of this is initiative is to build research capacity at the African institutions that will allow them to become independent and competitive research centers. The consortia are:
Addressing Herpesvirus-Associated Cancers through the UNC-Malawi Cancer Consortium
The consortium will focus on understanding the impact of antiretroviral therapy (ART) on AIDS-defining cancers and ways to improve outcomes of patients suffering from Kaposi's sarcoma and lymphoma.
Partners are: University of North Carolina at Chapel Hill, Lighthouse Trust, Malawi Ministry of Health, and the University Of Malawi College Of Medicine.
HIV and Hepatocellular Carcinoma in Uganda: The H2U Consortium
The H2U Consortium will address the epidemiology and etiology of HIV-associated Hepatocellular carcinoma (HCC) and what is the role of screening for HCC among HIV-infected people.
Partners are: Johns Hopkins University, Makerere University, Mulago Hospital and the Institute for Infectious Diseases in Kampala, Uganda.
Botswana-UPENN Research Consortium of HPV-related Cervical Cancer in HIV Patients
The consortium will address clinical questions regarding the pathogenesis and epidemiology of HIV-HPV co-infection and cervical cancer by studying three cohorts of women that span the entire natural history of HPV/HIV infection and cervical cancer.
Partners are: University of Botswana and the University of Pennsylvania.
Cancer Research International Training and Intervention Consortium (CRITIC)
This consortium will conduct long-term molecular cancer epidemiology training and sort-term technical training and workshops. A molecular virology research laboratory will be developed to support projects on the distribution of HPV genotypes and the characterization of Kaposi's sarcoma-associated herpesvirus in endemic and HIV-positive epidemic Kaposi's sarcoma.
Partners are: University of Nebraska-Lincoln, the University of Nebraska Medical Center and the Ocean Road Cancer Institute in Tanzania.
Uganda-UCSF Consortium on Prevention and Early Detection of HIV-Associated Cancer
The consortium will focus on the two most common cancers in Uganda, Kaposi's sarcoma (KS) and cervical cancer. The consortium will build capacity for research on HIV-associated cancers in Uganda through mentoring, pilot projects and K-like awards and explore strategies for increasing community and provider awareness and diagnosis of KS and cervical cancers.
Partners are: University of California San Francisco and Infectious Diseases Institute in Uganda.
AMPATH-Oncology Institute: HPV and Cervical Cancer in Kenyan Women with HIV/AIDS
The consortium will focus on the natural history of oncogenic HPV infections in HIV-infected Kenyan women, identification of modifiable and non-modifiable factors that are associated with progression of oncogenic HPV infection to clinical disease, and determine the best management algorithms for cervical cancer prevention in HIV-positive women.
Partners are: Indiana University, AMPATH (Academic Model Providing Access to Healthcare), Moi University and KEMRI (Kenya Medical Research Institute).
Biologic Determinants of the Natural History of AIDS-Defining Cancers in Uganda
The consortium will focus on the natural history of three AIDS-defining Cancers (ADCs) including KSHV-associated Kaposi's sarcoma, EBV-associated non-Hodgkin Lymphoma, and HPV-associated invasive cervical cancer in Uganda. They will define the viral genetic determinants that influence the natural history of ADCs, build up the research capacity of the next generation of scientists conducting long-term investigation addressing the control and management of ADCs in Uganda.
Partners are: Fred Hutchinson Cancer Research Center and the Uganda Cancer Institute.
HIV/HPV Cancer Prevention, Treatment & Pathogenesis: Rwanda/Einstein Consortium.
This consortium will focus on HPV-related cancers. They will assess optimal methods to screen and prevent cervical cancer in HIV-positive women and determine the prevalence of anal and penile HPV infection, and anal and penile squamous intraepithelial lesions in Rwandan men who have sex with men.
Partners are: Albert Einstein College of Medicine, University of Rwanda, the Rwanda Military Hospital and the NGO Regional Alliance for Sustainable Development Rwanda.