Volunteer Opportunities and Events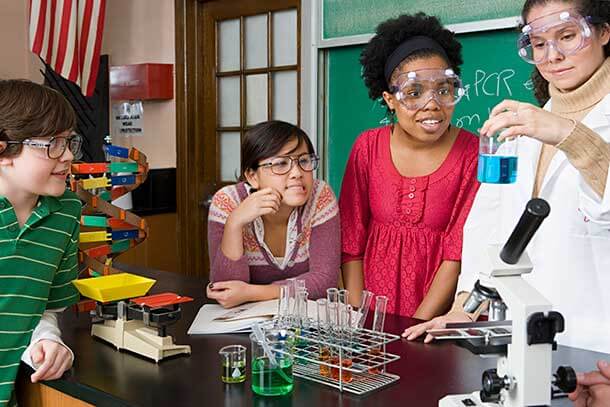 NCI Scientists in the Community seeks to benefit students and teachers in the greater Washington, D.C. area. Volunteers can participate in a scheduled event or participate in an ongoing opportunity with flexible days and times.
Volunteers are responsible for signing up for the events as they occur, participating in any necessary meeting and/or training(s) prior to the event, and arriving in a timely manner. For events that occur during the day, please talk to your supervisor and make sure you have their full support before attending during work hours.
If you are running late or need to cancel attendance at an event, please contact the program coordinator as soon as possible. Repeated tardiness or cancellations will result in termination from the program.
Upcoming Events
We are now preparing activities and new partnerships for the 2018-2019 school season. Please check back in the Fall for new events or if you are interested in partnering with us, please contact ncisc@nih.gov.
Past Events
Gross Morphology Lab: Wheaton High School
May 22, 2018 10:00am - 2:30pm
May 23 2018 12:00pm - 2:30pm
During labs at Wheaton, volunteers provide assistance to the teacher by distributing reagents, adjusting microscopes, aiding the students locate the proper field of vision, and answering any questions students have regarding real life applications of the techniques.
Lunch and Learn: Wheaton High School
April 19, 2018 at 12:00pm
A "lunch and learn" seminar is an opportunity for NIH scientists to share their research and career path with students during lunch. This week's seminar will be conducted by Diana Withrow, an epidemiologist in the NCI Division of Cancer Epidemiology and Genetics.
NIH Science Day
April 25, 2018 12:00-2:00pm
NIH Science Day is a partnership between the National Library of Medicine, Friends of NLM, and the non-profit organization Mentoring in Medicine. This event brings middle and high school students to the NIH to participate in presentations about biomedical research career options, hands-on activities, and Lunch with a Scientist at the Natcher Conference Center.
Ongoing Opportunities
These opportunities are ongoing with flexible days and times. If you are interested in participating, contact us.
Think Like a Scientist: Wheaton High School
This seminar series was developed to expose students to the critical thinking demonstrated by various professions. Think Like a Scientist is a two-part series that occurs over a two-week period. For the first seminar is designed to discuss your background and present a situation or problem that is typical to the profession. The second seminar is an exchange of ideas between the students and the investigator on how best to solve the problem. These seminars are to developed by the volunteer and reviewed by the NCI-SC admin before presenting. The timeline will be based solely on the volunteers schedule and coordinated with Wheaton.
Guest speaker opportunities: Wheaton High School
Through mid-January, Wheaton High School needs guest speakers as part of their 10th grade "Human Body Systems" curriculum. The timing is flexible and can be worked out between the speaker and the school coordinator. Presentations should be approximately 30-40 minutes, plus questions. Please let us know if you or someone you know may be interested in giving a presentation about their career!
Lunch and Learn Seminar Series: Wheaton High School
A "lunch and learn" seminar is an opportunity to share your research and your career path with students during lunch. There is no requirement for a specific background, but you will get to share the details of how you arrived at your current position. You will have 30-40 minutes to discuss when/how you decided to become a scientist, your path to NIH, as well as any advice you may have for a high school student interested in becoming a scientist. For this opportunity, the timing will be dependent on your schedule and you are responsible for coordinating with Wheaton after the initial sign-up.