A Snapshot of Leukemia
Incidence and Mortality
Leukemia, the second most common blood cancer after lymphoma, includes several diseases. The four major types are acute lymphocytic leukemia (ALL), chronic lymphocytic leukemia (CLL), acute myelogenous leukemia (AML), and chronic myelogenous leukemia (CML). Although leukemia occurs most often in older adults, it is among the most common childhood cancers. ALL accounts for approximately 75 percent of all childhood leukemias. By contrast, the most common types of leukemia in adults are AML and CLL, followed by ALL and CML.
The overall incidence rates for leukemia have increased on average 0.2 percent each year from 2002 to 2011, while overall mortality rates have fallen an average of 1 percent each year from 2001 to 2010. Incidence and mortality rates are higher in whites than in people of other racial and ethnic groups. Leukemia is slightly more common in men than women.
Specific risk factors for leukemia depend on the type of leukemia. In general, increased risk is associated with being male, smoking, exposure to certain chemicals such as benzene, exposure to radiation, past treatment with chemotherapy or radiation therapy, having certain inherited or genetic disorders, having certain blood disorders, and having a family history of leukemia. There are no standard screening tests for leukemia. Depending on the type of leukemia, standard treatments include watchful waiting, chemotherapy, targeted therapy, radiation therapy, and stem cell transplant.
Assuming that incidence and survival rates follow recent trends, it is estimated that $5.9 billion1 will be spent on care for patients with leukemia in the United States in 2014.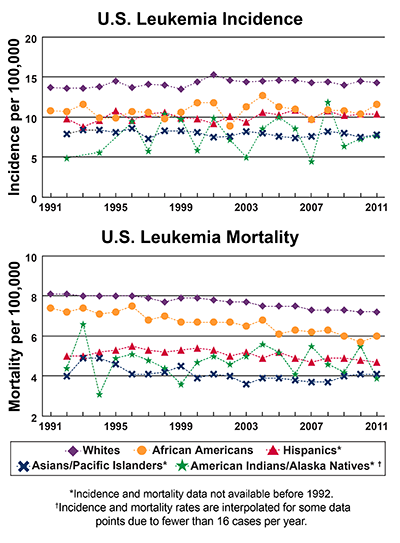 NCI's Investment in Leukemia Research
To learn more about the research NCI conducts and supports in leukemia, visit the NCI Funded Research Portfolio (NFRP). The NFRP includes information about research grants, contract awards, and intramural research projects funded by NCI. When exploring this information, it should be noted that approximately half of the NCI budget supports basic research that may not be specific to one type of cancer. By its nature, basic research cuts across many disease areas, contributing to our knowledge of the underlying biology of cancer and enabling the research community to make advances against many cancer types. For these reasons, the funding levels reported in NFRP may not definitively report all research relevant to a given category.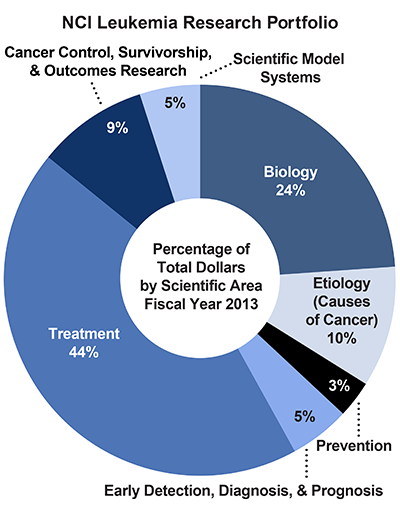 Other NCI programs and activities relevant to leukemia include:
Selected Advances in Leukemia Research
Additional Resources for Leukemia
---