A Snapshot of Melanoma
Incidence and Mortality
Melanoma of the skin, the most deadly form of skin cancer, is the fifth most common type of new cancer diagnosis in American men and the seventh most common type in American women. The incidence and mortality rates for invasive melanoma are highest in whites, who have a much higher risk of developing melanoma than African Americans. Among people younger than 45 years, incidence rates are higher in women than in men. By age 60 years, melanoma incidence rates in men are more than twice those of women; by age 80 years, men are nearly three times more likely to develop melanoma than women. The annual incidence rate of melanoma among whites increased by more than 60 percent from 1991 to 2011. The incidence of melanoma has been increasing more rapidly among whites aged 65 and older than among any other group.
Risk factors for melanoma include having fair skin that burns easily, high lifetime exposure to natural or artificial sunlight, a history of blistering sunburns (particularly at a young age), many common moles, a personal or family history of dysplastic nevi or melanoma, and being white. Avoiding sun exposure and using a broad-spectrum sunscreen lotion that filters both UVB and UVA radiation may reduce the risk of melanoma. Visual skin examinations are sometimes used to screen for melanoma. Standard treatments for melanoma include surgery, chemotherapy, radiation therapy, targeted therapy, and biological therapy.
Assuming that incidence and survival rates follow recent trends, it is estimated that $2.9 billion1 will be spent on melanoma care in the United States in 2014.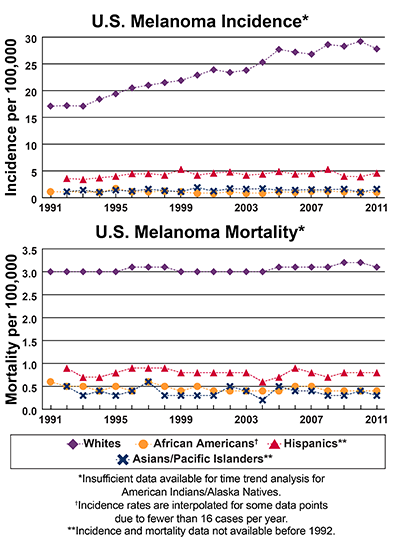 NCI's Investment in Melanoma Research
To learn more about the research NCI conducts and supports in melanoma, visit the NCI Funded Research Portfolio (NFRP). The NFRP includes information about research grants, contract awards, and intramural research projects funded by NCI. When exploring this information, it should be noted that approximately half of the NCI budget supports basic research that may not be specific to one type of cancer. By its nature, basic research cuts across many disease areas, contributing to our knowledge of the underlying biology of cancer and enabling the research community to make advances against many cancer types. For these reasons, the funding levels reported in NFRP may not definitively report all research relevant to a given category.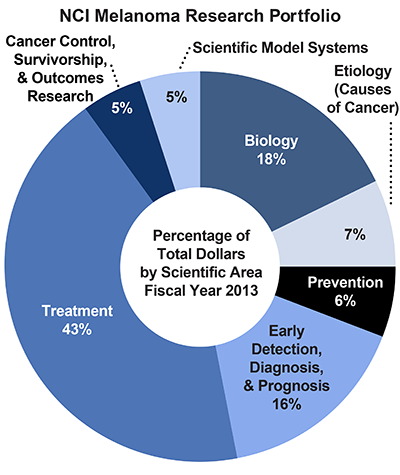 Other NCI programs and activities relevant to melanoma include:
Selected Advances in Melanoma Research
Additional Resources for Melanoma
---