Getting Follow-Up Medical Care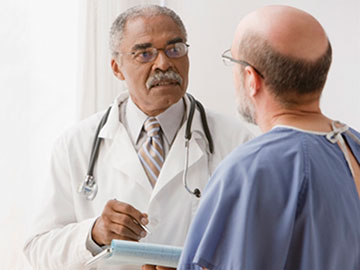 All cancer survivors should have follow-up care. Follow-up care means seeing a doctor for regular medical checkups once you're finished with treatment. It's important to look for any changes in your health or any problems that may occur due to cancer treatment. These checkups are also a time to check for physical and emotional effects that may develop months or years after treatment ends.
Knowing what to expect after cancer treatment can help you and your family make plans, lifestyle changes, and important decisions about the future. Common questions you may have are:
What symptoms should I tell the doctor about?
Which doctors should I see after treatment?
How often should I see my doctor?
What tests do I need?
What can be done to relieve pain, fatigue, or other problems after treatment?
How long will it take for me to recover and feel more like myself?
Is there anything I can do to keep the cancer from coming back?
Will I have trouble with health insurance?
Are there any support groups I can go to?
Coping with these issues can be a challenge. Yet many say that getting involved in decisions about their medical care and lifestyle was a good way for them to regain some of the control they felt they lost during cancer treatment. Being an active partner with your doctor and getting help from other members of your health care team is the first step.
Your Follow-up Care Plan
Once you're done with cancer treatment, you should receive a follow-up cancer care plan from your doctor. The National Cancer Institute and other cancer organizations recommend this document for people who have finished treatment. The details of your plan will depend on the type of cancer and type of treatment you had, along with your overall health. It is usually different for each person. In general, survivors return to the doctor every 3 to 4 months at first, and once or twice a year after that. At these visits, your doctor may give you a physical exam along with blood tests and other follow-up tests that are necessary.
For follow-up care, you may see the same doctor who treated you for cancer. Or you may decide to go to your primary care doctor. This is something you can discuss with your health care team.
Make sure you have a treatment summary. Your oncologist should give you a written summary of your treatment. Keep this with you to share with your primary care doctor and any other doctors you see. Many people keep this along with their medical records in a binder or folder. This way, key facts about your treatment will always be in the same place. Types of health information to include may be:
The date you were diagnosed
The type of cancer you had
Pathology report(s) that describe the type and stage of cancer in detail
Places and dates of specific treatment, such as:

Details of all surgeries
Sites and total amounts of radiation therapy
Names and doses of chemotherapy and all other drugs
Key lab reports, x-ray reports, CT scans, and MRI reports

List of signs to watch for and possible long-term effects of treatment
Contact information for all health professionals involved in your treatment and follow-up care
Any problems that occurred during or after treatment
Information about supportive care you received (such as special medicines, emotional support, and nutritional supplements)
Studies show that patients who received a treatment summary were more likely to report having good care and communication from their doctor. When you meet with your doctor about follow-up care, it's important to talk openly about any physical or emotional problems you're having. Always mention any symptoms or concerns that are new to you or that won't go away. And keep in mind, just because you have certain symptoms, it doesn't always mean the cancer has come back. Symptoms can be due to other problems that still need to be addressed. Questions about your follow-up care should include:
How often should I see the doctor?
What follow-up tests should be done? How often?
Are there symptoms I should watch out for?
If I develop any of the symptoms, whom should I call?
You might find it helpful to write these questions down. When you meet with the doctor, you can take notes or record your talks to refer to later.
My doctor has been great. I call him with every little ache and he listens to my concerns and we talk about whether or not I need to come in.
Guidelines for Follow-up Care
The following programs or organizations provide helpful follow-up care guidelines for some cancers. You can use them to help you talk with your doctor, but they aren't meant to take the place of your doctor's knowledge or judgment.
Getting a Wellness Plan
After cancer treatment, many survivors want to find ways to reduce the chances of their cancer coming back. Some worry that the way they eat, the stress in their lives, or their exposure to chemicals may put them at risk. Cancer survivors find that this is a time when they take a good look at how they take care of themselves. This is an important start to living a healthier life.
Ask your doctor about developing a survivorship care plan that includes ways you can take care of your physical, emotional, social, and spiritual needs. As with the follow-up cancer care plan, the National Cancer Institute and other cancer organizations recommend this document for people who have finished treatment.
If you find that it's hard to talk with your doctor about these wellness issues, it may be helpful to know that the more you do it, the easier it becomes. Your doctor may also suggest other members of the health care team for you to talk with, such as a social worker, nutritionist, clergy member, or nurse.
Guidelines for a Healthy Lifestyle
Quit smoking. Research shows that smoking can increase the chances of getting cancer at the same or a different site.
Cut down on how much alcohol you drink. Research shows that drinking alcohol increases your chances of getting certain types of cancers.
Maintain a healthy weight. Eating well and staying active can help you reach a healthy weight and stay there.
Eat well. Healthy food choices may help reduce the risk of cancer or recurrence. Talk with your doctor or a dietitian to find out about any special dietary needs that you may have. The American Cancer Society and the American Institute for Cancer Research have developed similar diet and fitness guidelines that may help reduce the risk of cancer:

Eat a plant-based diet that includes at least 5-9 servings of fruit and vegetables daily. Try to include beans in your diet, and eat whole grains (such as cereals, breads, and pasta) several times daily.
Choose foods low in fat and salt.

Exercise and stay active. Research suggests that staying active after cancer can help lower the risk of recurrence and lead to longer survival. Moderate exercise (walking, biking, swimming) for about 30 minutes every - or almost every - day can:

Reduce anxiety and depression
Improve mood and boost self-esteem
Reduce fatigue, nausea, pain, and diarrhea
It is important to start an exercise program slowly and increase activity over time. Work with your doctor or a specialist (such as a physical therapist) if needed. If you need to stay in bed during your recovery, even doing small activities can help. Stretching or moving your arms or legs can help you stay flexible, relieve muscle tension, and help you feel better. Some people may need to take special care in exercising. Talk with your doctor before you begin any exercise program.