NCI-Molecular Analysis for Therapy Choice (NCI-MATCH) Trial

The Trial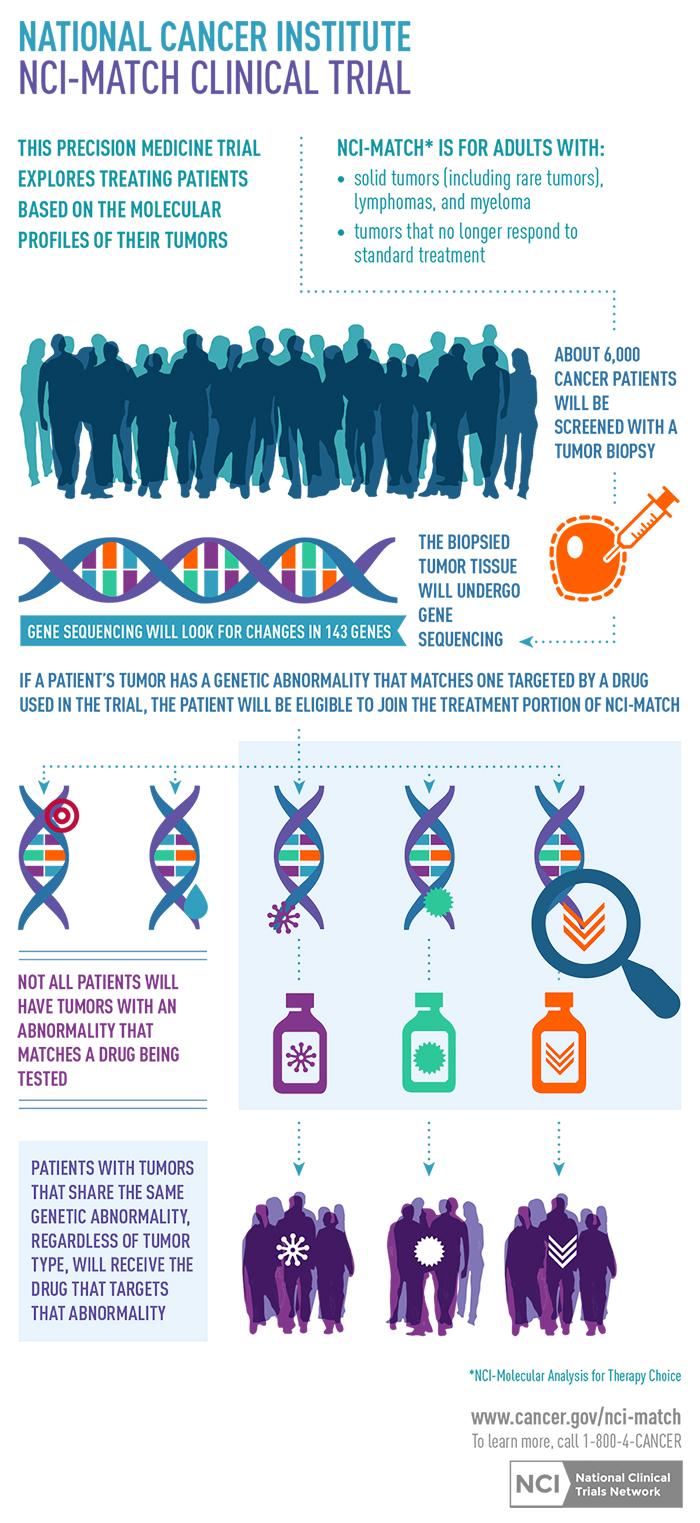 NCI-Molecular Analysis for Therapy Choice (NCI-MATCH) is a clinical trial that analyzes patients' tumors to determine whether they contain gene abnormalities for which a targeted drug exists (that is, "actionable mutations") and assigns treatment based on the abnormality. NCI-MATCH seeks to determine whether treating cancers according to their molecular abnormalities will show evidence of effectiveness.
Each treatment in NCI-MATCH will be used in a unique arm, or substudy, of the trial. Each treatment will be used in a unique arm, or substudy, of the trial. The trial opened for enrollment in August 2015 and there are currently 24 treatment arms open and enrolling patients. Each arm has a goal to enroll 35 patients for treatment.
Adults 18 years of age and older with advanced solid tumors, lymphomas and myelomas that are no longer responding (or never responded) to standard therapy and have begun to grow may be candidates to take part in the NCI-MATCH trial.
The trial will examine tumor biopsy specimens from about 6,000 patients. The specimens undergo DNA sequencing to identify those that have gene abnormalities that may respond to the targeted drugs selected for the trial. The drugs included in the trial have either been approved by the U.S. Food and Drug Administration (FDA) for another cancer indication or are still being tested in other clinical trials but have shown some effectiveness against tumors with a particular gene alteration(s). Treatment arms may continue to be added to the trial over time as drug companies and others develop promising targeted therapies.
How NCI-MATCH Is Unique
NCI-MATCH, which is coordinated by the ECOG-ACRIN Cancer Research Group, has national reach and is offered at many clinical sites across the United States that participate in NCI's National Clinical Trials Network. Therefore, patients may not need to travel far from home to participate in the trial. The trial also employs the expertise of the NCI and of specialized investigators and scientists within NCI-Designated Cancer Centers and networks who are at the cutting edge of precision medicine in oncology, as well as clinical oncologists and community practices that are experienced in clinical trials, such as those that are part of the NCI Community Oncology Research Program.
NCI-MATCH utilizes advanced DNA sequencing which has been extensively validated across four certified clinical laboratories for high consistency of results. The investigators in the four chosen laboratories are among those with the most expertise in these types of assays. The trial is also using standard procedures to collect specimens and prepare them for analysis.
The trial has included many more drugs for testing than most other clinical trials and is including even more drugs as additional arms are added. Many pharmaceutical companies are collaborating in NCI-MATCH and have also contributed their expertise.
Because it is difficult to perform molecularly targeted clinical trials except in the most prevalent types of cancer, NCI-MATCH is designed to be able to detect responses to the inhibition of driver mutations in more than one tumor type. Such findings can then be followed up with additional clinical trials to learn more about the effect of the drug on patients whose tumors have the targeted mutation.
Patients and the Trial Process
The NCI-MATCH trial has two enrollment steps. Each patient initially enrolls for screening. In this step, a biopsy procedure is used to remove tumor samples that then undergo DNA sequencing to detect gene abnormalities that may be driving tumor growth. If a molecular abnormality is detected that is targeted by one of the drugs being studied in the trial, patients are further evaluated to determine if they meet the specific eligibility requirements of that arm and can be accepted into NCI-MATCH. Once enrolled, patients are treated with the targeted drug for as long as their tumor shrinks or remains stable. Overall, the trial investigators plan to screen about 6,000 patients during the full course of the NCI-MATCH trial.
Types of Cancers Studied
A patient with an advanced solid tumor, lymphoma or myeloma can enroll for screening. A goal for NCI-MATCH is for about 25 percent of the total patients enrolled in the trial to have rare cancers. The most common cancers are those of the breast, colon, lung and prostate. Rare cancers include cancers at sites in the body where cancer rarely occurs, such as the eye, ureter, and pituitary gland, as well as cancers that are classified as rare because the primary location of the tumor could not be determined at the time of diagnosis.
How Patients Are Being Screened for Gene Mutations
Biopsy specimens removed from patients' tumors are sent to one of four gene testing laboratories, where they are analyzed for more than 4,000 different variants across 143 genes. To efficiently investigate the effectiveness of molecularly targeted therapies for patients with the corresponding driver mutations, a broad-based genomic pre-screening effort such as this is necessary to find and assign patients whose tumors harbor these mutations, regardless of tumor origin.
Determining If a Treatment Has Promise
The primary endpoint for NCI-MATCH is the objective response rate, or ORR, defined as the percentage of patients whose tumors have a complete or partial response to treatment (that is, the tumors shrink by a certain amount). Treatments will be considered promising for incorporating into future studies if at least 16 percent of the patients in an arm are observed to have tumor shrinkage. This threshold was chosen to minimize the chance that a treatment that is actually ineffective will appear promising, while also maximizing the chance that a treatment that is actually effective will appear promising.
A secondary endpoint for the trial is six-month progression-free survival (PFS), that is, the percentage of patients whose disease does not worsen for at least six months.
In addition to assessing ORR and PFS, researchers will also determine time to progression (TTP) of the cancer and evaluate the side effects of the treatments.
Actionable Mutations and Matching Drugs (as of May 2016)
The tumor gene test will assess the following molecular abnormalities in 2016 as defined by the trial arm number. All NCI-MATCH treatments must have shown clinical activity in at least one molecularly characterized tumor:
NCI-MATCH 24 Arms

| Arm | Target | Drug(s) |
| --- | --- | --- |
| A | EGFR mut | Afatinib |
| B | HER2 mut | Afatinib |
| C1 | MET amp | Crizotinib |
| C2 | MET ex 14 sk | Crizotinib |
| E | EGFR T790M | AZD9291 |
| F | ALK transloc | Crizotinib |
| G | ROS1 transloc | Crizotinib |
| H | BRAF V600 | Dabrafenib+trametinib |
| I | PIK3CA mut | Taselisib |
| N | PTEN mut | GSK2636771 |
| P | PTEN loss | GSK2636771 |
| Q | HER 2 amp | Ado-trastuzumab emtansine |
| R | BRAF nonV600 | Trametinib |
| S1 | NF1 mut | Trametinib |
| S2 | GNAQ/GNA11 | Trametinib |
| T | SMO/PTCH1 | Vismodegib |
| U | NF2 loss | Defactinib |
| V | cKIT mut | Sunitinib |
| W | FGFR1/2/3 | AZD 4547 |
| X | DDR2 mut | Dasatinib |
| Y | AKT1 mut | AZD 5363 |
| Z1A | NRAS mut | Binimetinib |
| Z1B | CCND1,2,3 amp | Palbociclib |
| Z1D | dMMR | Nivolumab |
Re-testing for Eligibility in New Arms of the Trial
Patients can be considered for entering a second arm of NCI-MATCH if the first treatment they received in NCI-MATCH was not successful. If tumor gene testing showed that the patient has a second abnormality that is targeted by a drug being studied in the trial, and if there is an open slot in the substudy that is testing that drug, the patient may be eligible for the second substudy. There may be additional tests that the patient would need to have before being registered into the new arm to receive treatment.
If a patient does not have a match in the first biopsy, and a treatment match becomes available later that might correspond to the patient's mutations, the patient's doctor will be notified. If the patient had another treatment since the initial biopsy, a new biopsy sample may be required before beginning a treatment arm.
Trial Costs
The trial covers the cost of the biopsy and molecular tests, and patients will receive the drugs without charge if they are eligible to enroll for an NCI-MATCH treatment. Neither the patients nor a health plan/insurance company will have to pay for any study-related biopsies or the assigned study drug(s) that were matched to a patient's cancer.
Unless patients are informed that certain tests are being done at no charge, they or their health plan/insurance company will need to cover all of the other costs, including the cost of tests, procedures, or medicines to manage any side effects of the biopsy and treatment. Enrollees will not be paid for participation in this study.
Trial Collaborators
NCI-MATCH is supported by NCI and is coordinated by the ECOG-ACRIN Cancer Research Group. Personnel from NCI, ECOG-ACRIN, and the other adult trial groups in the NCI-supported National Clinical Trials Network (NCTN)—the Alliance for Clinical Trials in Oncology, NRG Oncology Group, and SWOG—have collaborated in the development of NCI-MATCH. The NCTN includes researchers, physicians, and health care professionals at public and private institutions across the United States. They conduct clinical trials on all types of adult cancers.
In addition to the institutions belonging to the NCTN, NCI-MATCH will be open to all institutions and sites that participate in the NCI Community Oncology Research Program (NCORP).
For clinical trial tracking purposes, the NCI-MATCH trial is also referred to as EAY131 and as NCT02465060.
NCI-MATCH and the President's Precision Medicine Initiative®
The Precision Medicine Initiative® was funded through a $215 million request in the President's 2016 Budget directed at the NIH, the FDA, and the Office of the National Coordinator for Health Information Technology. The PMI revolves around precision medicine, an approach to disease prevention and treatment that takes into account individual differences in people's genes, environments, and lifestyles. Precision medicine gives clinicians tools to better understand the complex mechanisms underlying a patient's health, disease, or condition, and to better predict which treatments will be most effective.
In the PMI budget, $70 million went to NCI to scale up efforts to identify genomic drivers in cancer and apply that knowledge in the development of more effective approaches to cancer treatment. Specifically, PMI funds will be used to increase screening to the NCI-MATCH trial from 5,000 to 6,000 patients as well as to fund whole exome sequencing and RNA sequencing on approximately 1,000 patients treated with targeted agents.
Ancillary and Related Trials
NCI-Pediatric MATCH
A trial that will be known as NCI-Pediatric MATCH will use a similar approach as the adult NCI-MATCH for pediatric patients but will be a completely separate trial. The trial will be led by the Children's Oncology Group (COG), which is also part of NCI's National Clinical Trials Network. It is still in development and is expected to launch in 2017.
COMET
A limited time option for 500 newly enrolling patients to NCI-MATCH is to also enroll in an ancillary study called COMET (COMmunication and Education in Tumor Profiling). The patients are completing a survey before and after they undergo tumor gene testing in NCI-MATCH and the COMET study will gather data to determine whether increasing knowledge about the limitations and benefits of genetic testing could reduce a patient's level of distress about the process. COMET will not directly inform NCI-MATCH nor will it affect how a patient is treated while in the NCI-MATCH trial.
DART
DART (Dual Anti-CTLA-4 & Anti-PD-1 blockade in Rare Tumors) is a national clinical trial testing immunotherapies for a wide variety of rare cancers that occur in less than 6 in 100,000 people in the U.S. per year. These include dozens of types, including cancers in nerves, glands, bones, and skin. Patients must already be registered in the NCI-MATCH trial to be eligible to enroll in DART. If a patient's tumor mutation did not match to a treatment option under NCI-MATCH or if there was no response to the treatment they received on that trial, and their rare cancer is eligible, they can enroll in DART. Patients in DART will be treated with two immunotherapy drugs – ipilimumab plus nivolumab – a combination treatment that helps the immune system fight cancer. Investigators leading the DART trial want to determine if this combination, given in six-week cycles, can significantly shrink tumors based on computerized tomography scans taken upon enrollment, then at regular intervals over the course of treatment. A basic science team will use tumor tissue samples to study how immune cells and genes respond to the drug combination, and see if there are any biomarkers that predict treatment response among patients. Trial leaders plan to enroll 300 patients.
Enrollment Options in NCI-MATCH
To learn more about NCI-MATCH, patients should start by speaking with their doctors or healthcare team. More details about NCI-MATCH are available in the protocol summary. As the trial progresses, the list of clinical sites will continue to grow as new sites are added.

Patients, families, and clinicians can also call NCI's Cancer Information Service at 1-800-4-CANCER (1-800-422-6237) for assistance in English and Spanish or contact NCI's LiveHelp service to learn more about either study.

Clinicians and organizations that are interested in participating in either trial should contact NCI's Cancer Trials Support Unit.