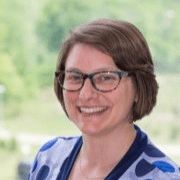 Lisa Witzler, Ph.D.
Division of Cancer Biology (DCB)
Office of the Director
Dr. Lisa Witzler specializes in strategic planning, organizational development, facilitation, and DCB processes and policies.  She also manages the administrative team for DCB.​
She brings a "human first" approach to staff management, which promotes employee engagement, as well as diversity, equity, inclusion, and accessibility.  ​
Along with her Chief of Staff responsibilities, Dr. Witzler is also a part of the NIH Planning and Evaluation Committee, a member of the DCB Communications Team, and leads DCB Strategic Planning activities. ​
Research Programs
Dr. Witzler contributes to the planning and development of DCB Research Programs.
Background
Prior to working in DCB, Dr. Witzler was a training specialist in NCI's Office of Workforce Development. 
Education 
Ph.D., Conflict Analysis and Resolution, Nova Southeastern University
M.A., Dispute Resolution, University of Massachusetts Boston