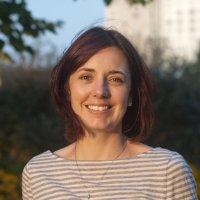 Shannon Hughes, Ph.D.
Division of Cancer Biology (DCB)
Dr. Shannon Hughes helps DCB support fundamental cancer research. She also promotes emerging scientific areas and a diverse cancer research workforce to advance  progress in cancer biology.

In addition to her work in DCB, Dr. Hughes also co-chairs a Cancer Moonshot Implementation Team and an NCI Equity Council Working Group.
Research Programs
Dr. Hughes supports DCB Research Programs and manages a Cancer Moonshot initiative:
Background
Dr. Hughes joined the DCB in 2015 as a Program Director for the CSBC and the Physical Sciences - Oncology Network (PS-ON). Her interest in cancer systems biology and physical oncology stems from her background in applying chemical and biomedical engineering principles to investigate cell signaling pathways involved in cell migration, invasion, and cancer metastasis. Following her undergraduate studies in Chemical Engineering, she spent three years as a process engineer working in the field of drug delivery at 3M. Industry research motivated her Ph.D. in Biomedical Engineering and postdoctoral research focusing on breast cancer metastasis. Before coming to NCI, Dr. Hughes served as a lead technical research instructor in the Biological Engineering Department at MIT.
Education
Ph.D., Biomedical Engineering, Washington University in St. Louis
B.S., Chemical Engineering, Iowa State University