What Is Liver Cancer?
Primary liver cancer is a disease in which malignant (cancer) cells form in the tissues of the liver. Cancer that forms in other parts of the body and spreads to the liver is not primary liver cancer. The liver is one of the largest organs in the body. It has two lobes and fills the upper right side of the abdomen inside the rib cage. The main functions of the liver include the following:
to make bile to help digest fat that comes from food
to store glycogen (sugar), which the body uses for energy
to filter harmful substances from the blood so they can be passed from the body in stools and urine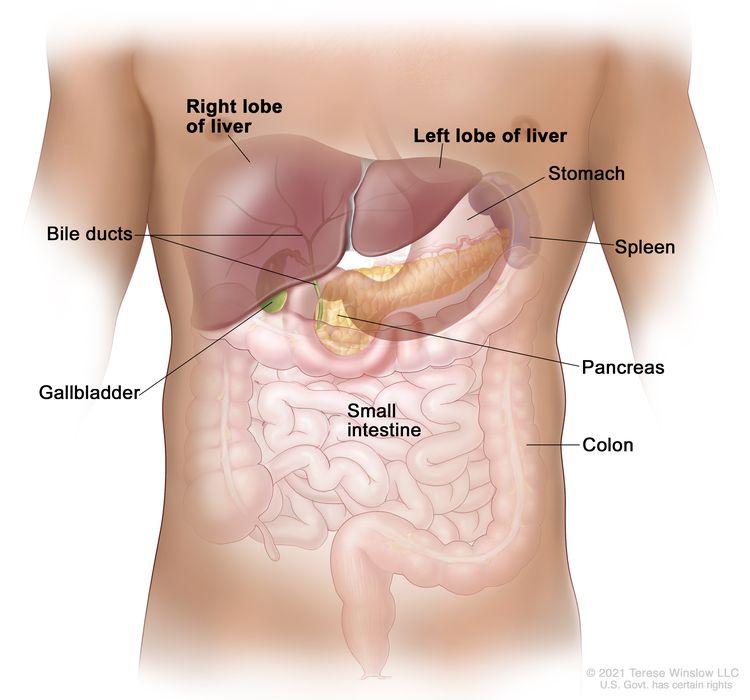 Types of liver cancer
Hepatocellular carcinoma and bile duct cancer (cholangiocarcinoma) are the main types of adult primary liver cancer.
Most adult primary liver cancers are hepatocellular carcinomas. This type of liver cancer is the third leading cause of cancer-related deaths worldwide.
Primary liver cancer can occur in both adults and children. However, treatment for children is different than treatment for adults. For more information, see Childhood Liver Cancer.
Signs and symptoms of liver cancer
These and other signs and symptoms may be caused by adult primary liver cancer or by other conditions. Check with your doctor if you have any of the following:
a hard lump on the right side just below the rib cage
discomfort in the upper abdomen on the right side
a swollen abdomen
pain near the right shoulder blade or in the back
jaundice (yellowing of the skin and whites of the eyes)
easy bruising or bleeding
unusual tiredness or weakness
nausea and vomiting
loss of appetite or feelings of fullness after eating a small meal
weight loss for no known reason
pale, chalky bowel movements and dark urine
fever