Guidelines Urge Exercise for Cancer Patients, Survivors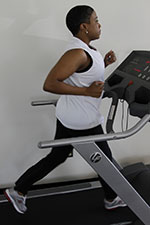 A panel of 13 researchers with expertise in cancer, fitness, obesity, and exercise training is spreading what they believe to be one of the most important messages for cancer patients and survivors: Avoid inactivity.
The panel was convened in 2009 by the American College of Sports Medicine (ACSM) to develop guidelines on exercise and physical activity in patients who are undergoing active treatment for cancer or who have completed treatment.
In addition to promoting the benefits of exercise and physical activity in this group, the panel had another goal in formulating the guidelines, said lead author Dr. Kathryn Schmitz of the University of Pennsylvania's Abramson Cancer Center. "Our hope is that there will be more conversations about the need for formalized exercise programs for patients during and right after treatment—programs that will be the cancer equivalent to cardiac rehab," she said.
The benefits of exercise are well documented in a number of cancers, Dr. Schmitz continued, namely in areas such as fatigue and physical functioning, both of which directly influence quality of life. While survival is the ultimate outcome measure, with an estimated 12 million cancer survivors and growing in the United States, the importance of improving quality of life has grown exponentially.
The evidence linking physical activity with improved quality of life in those undergoing active treatment and those who have completed it "is incredibly strong," said Dr. Rachel Ballard-Barbash of NCI's Division of Cancer Control and Population Sciences.
The most robust evidence is for people who have completed active cancer treatment, noted Dr. Kerry Courneya from the University of Alberta, who has led a number of clinical trials of physical activity in cancer patients. But, he continued, because of differences in study design and other factors, it's difficult to compare findings involving patients under active treatment with findings involving patients who have completed treatment.
Overall, said Dr. Courneya during an education session on exercise and cancer at the 2010 ASCO annual meeting, "We're finding that patients can do a lot more than we originally thought they could do, even when they're on chemotherapy or radiation therapy."
And that's critical, stressed Dr. Ballard-Barbash. "Even a modest amount of exercise, like brief walks, is beneficial, and we see gains versus doing nothing at all."
Adapt, but Be Realistic
Patients with different cancer types receive different treatments. So the ACSM guidelines identify considerations that patients/survivors and the fitness professionals working with them should take into account.
In men who have undergone androgen deprivation therapy for prostate cancer, for example, trainers need to be aware of fracture risk and adjust the exercises accordingly. And many women with breast cancer will have had surgery "that can really debilitate the shoulder," said McAllister, so the guidelines encourage the use of exercises to stabilize and strengthen the surrounding muscles.
Dr. Schmitz noted that although the benefits of exercise are clear, "sometimes people are just too sick to exercise," particularly during active treatment. Dr. Ballard-Barbash concurred. "If a patient is finding it difficult to tolerate exercise," she said, "he or she may need to decrease activity for a while, or wait a few days before starting again."
Developing the Guidelines
The guidelines, published in the July 2010 Medicine & Science in Sports & Exercise, follow the 2008 release of HHS' Physical Activity Guidelines for Americans. But the panel suggested adaptations for exercise in people with different cancer types based on factors such as common adverse effects of treatment, for example, increased risk of bone fractures and cardiac side effects. (See the sidebar.)
Specific recommendations—including the objectives and goals of a prescription for exercise training—and contraindications for exercise are, however, available only for patients with breast, prostate, colon, gynecologic, and hematologic cancers, since they are the cancers for which the panel felt there was sufficient evidence for such recommendations.
Two of the primary goals of exercise highlighted in the guidelines are improved body image and body composition. In the case of the former, many cancer patients undergo extensive surgery or receive treatments that can alter their physical appearance and radically alter feelings about things such as sexual attractiveness, said Dr. Schmitz. "There's good evidence in the literature that physical activity can improve body image, and that may be one mechanism through which exercise can improve quality of life," she explained.
Body composition changes are common in many cancer patients, but the reasons can vary by cancer site. Some cancers, such as gastrointestinal and head and neck cancers, are typically associated with body wasting (loss of weight and muscle mass), so much so that it can be difficult for some patients to get up out of a chair. In this group, exercises that help build lean muscle are important.
But in breast cancer, where the bulk of the studies on physical activity have been performed, the systemic treatments patients often receive can lead to significant weight gain. In those patients, exercise "that is more useful for controlling body weight and losing fat, getting back to a healthy BMI," will be more important, Dr. Schmitz said.
The guidelines also make note of the suggestive evidence—but by no means definitive evidence—in breast and colorectal cancer that regular exercise after treatment improves progression-free and overall survival. As the data continue to emerge in this area, a prescription for exercise could be "an adjunct to curative care," said Dr. Schmitz.
But Dr. Courneya acknowledged that the jury is still out on survival, calling the data "exciting" but "still experimental."
Putting Exercise into Action
There are numerous issues to address before physical activity becomes proactively integrated into treatment or survivorship plans, including insurance coverage of exercise training; educating oncologists, other clinicians, and patients about the benefits of exercise; and expanding the ranks of fitness professionals who understand the issues and needs faced by cancer patients and survivors.
From her perspective, said Marilyn McAllister, a trainer from Boise, ID, who often works with breast cancer survivors in her own studio and at a local hospital, the environment around exercise and cancer is improving, but more progress needs to be made. In her experience, physicians often are "too swamped" dealing with day-to-day patient care issues to learn about or discuss exercise with their patients. "And patients, when they first start treatment, are just overwhelmed with information, so handing them a piece of paper with information about yoga or strength training isn't very helpful."
Several initiatives are under way to expand the supply of fitness professionals with cancer-specific training. ACSM and the American Cancer Society (ACS) have a certification program for trainers who want to work with cancer patients and survivors, and Dr. Schmitz helped ACSM develop a six-session cancer exercise trainer certification Webinar. In addition, the Lance Armstrong Foundation has partnered with the YMCA to help train fitness staff at YMCAs across the country to work with and meet the needs of cancer survivors.
Helping any of her clients improve their fitness is gratifying, said McAllister, an ACSM/ACS-certified cancer trainer, but working with cancer patients and survivors offers some unique rewards. "Everybody benefits from exercise, but it can be so dramatic in cancer patients," she said. "It doesn't take much training to produce big results in their lives."