A Snapshot of Sarcoma
Incidence and Mortality
Sarcomas are a diverse and relatively rare group of malignant tumors that develop in soft tissue and bone. Soft tissue sarcomas form in cartilage, fat, muscle, fibrous tissue, blood vessels, and other connective or supportive tissues of the body; osteosarcomas develop in bone; liposarcomas form in fat; rhabdomyosarcomas form in muscle; and Ewing sarcomas form in bone and soft tissue. Sarcomas can be difficult to distinguish from other malignancies when they are found within organs; thus, their incidence is probably underestimated. In 2014, it is estimated that approximately 12,000 cases of soft tissue sarcoma and 3,000 cases of bone sarcomas will be diagnosed in the United States; approximately 4,700 and 1,500 people are expected to die from soft tissue and bone sarcomas, respectively.
Soft tissue1 and bone sarcoma incidence rates have increased over the past 35 years. Soft tissue sarcomas are more common than bone sarcomas. There are several subtypes of both soft tissue sarcoma and bone sarcoma, but the exact number of Americans with each sarcoma subtype is unknown. The 5-year relative survival rate for both bone and soft tissue sarcoma is approximately 65 percent.
Certain inherited disorders and past treatment with radiation therapy can increase the risk of soft tissue sarcoma and some bone sarcomas. Standard treatments for bone and soft tissue sarcoma include surgery, chemotherapy, and radiation therapy. In addition to those treatments, patients with bone sarcoma and uterine sarcoma may receive samarium 153 and hormone therapy, respectively. Children with soft tissue sarcoma may receive targeted therapy.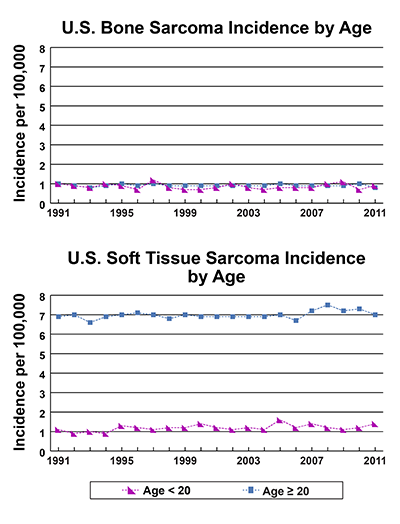 NCI's Investment in Sarcoma Research
To learn more about the research NCI conducts and supports in sarcoma, visit the NCI Funded Research Portfolio (NFRP). The NFRP includes information about research grants, contract awards, and intramural research projects funded by NCI. When exploring this information, it should be noted that approximately half of the NCI budget supports basic research that may not be specific to one type of cancer. By its nature, basic research cuts across many disease areas, contributing to our knowledge of the underlying biology of cancer and enabling the research community to make advances against many cancer types. For these reasons, the funding levels reported in NFRP may not definitively report all research relevant to a given category.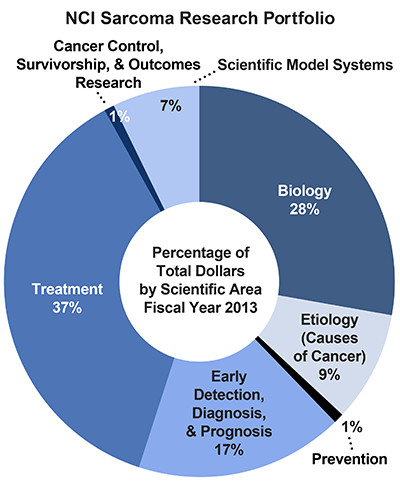 Other NCI programs and activities relevant to sarcoma include:
Selected Advances in Sarcoma Research
Additional Resources for Sarcoma
---
1 Does not include Kaposi sarcoma, which is addressed in a separate Snapshot.