Radically Reducing Radiation Exposure during Routine Medical Imaging
Since the 1980s, the average annual per capita exposure to radiation from medical imaging in the United States has increased almost sixfold. Although debate continues over the health risks from this exposure, doctors and researchers want to limit exposure while maintaining the many benefits of modern medical imaging.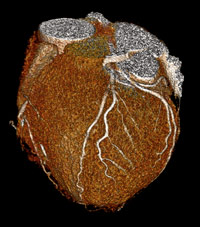 On February 24 and 25, 2011, the National Institute of Biomedical Imaging and Bioengineering (NIBIB), the Eunice Kennedy Shriver National Institute of Child Health and Human Development, the National Heart, Lung, and Blood Institute, NCI, and the Coalition for Imaging & Bioengineering Research sponsored a meeting to promote this effort: "The Summit on Management of Radiation Dose in Computerized Tomography: Toward the Sub-mSv Exam." (A millisievert, abbreviated mSv, is a measurement that scientists use to estimate the overall health risk of exposure to a dose of ionizing radiation.)
Among medical imaging technologies that use radiation, the use of computed tomography (CT) has increased the most over the past few decades. The challenge, said Dr. James Thrall, president of the American College of Radiology, is to reduce the mean dose of 95 percent of CT scans from the current level of about 7 mSv to less than 1 mSv.
"Up to this point, our efforts have been focused on achieving dose savings in small, incremental amounts," said Dr. Jeffrey Shuren, director of the FDA's Center for Devices and Radiological Health. "[This] summit is radically different; setting an ambitious goal to reduce radiation from CT imaging to less than 1 mSv; seeking to reduce dose by an order of magnitude…as opposed to by just a few percentage points.
"We fully expect that this goal will only be achieved through a revolutionary change in how we approach every aspect of CT imaging," Dr. Shuren continued.
Two areas of diagnostic medicine already have shown the feasibility of the sub-mSv CT exam. Presenters at the meeting shared lessons learned from cardiac CT and pediatric CT. For example, radiologists performing cardiac CTs in some hospitals have decreased exposure time in the CT scanner, lowered the X-ray tube current required for a scan, and made better use of other companion diagnostic procedures that don't require radiation, thereby reducing the average radiation dose below 1 mSv. (See the images in this article.)
In pediatrics, the international Image Gently campaign has successfully raised awareness that much smaller doses of radiation can accurately capture pictures of children's smaller bodies. The theme of the "right-sized dose" ran throughout the summit. "Patients aren't all standard [sized]," said Dr. Cynthia McCollough of the Mayo Clinic. Any program of CT dose reduction will need to take into account the different doses required to image patients of different sizes, from newborns to morbidly obese adults, she explained.
Radiologists and technologists have an opportunity to reduce radiation doses rapidly by confining scans to the areas doctors intend to image, according to Dr. Leslie Quint, of the University of Michigan Health System. In several studies of thoracic imaging reviewed by Dr. Quint and her colleagues, they found that 21 to 57 percent of the total radiation dose from CT scans was due to imaging extra tissue at the beginning or end of the scan. And in a review they performed of general CT scanning at their institution, they found a mean 10 percent excess dose from imaging unnecessary tissue.
Part of this over-imaging may be due to a lack of appropriate training for the people who operate the scanners, who may not understand the science behind the instructions entered into a CT scanner for individual patients, several participants suggested. Better training is vital, summit participants agreed, since the choices made in real time by technologists can impact the final radiation dose from any given scan.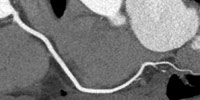 Participants also discussed the need for new, high-tech dose-reduction strategies for both CT hardware and software. Many innovations could be made in hardware components of modern CT scanners, including the x-ray sources and the devices that shape the radiation beams, to reduce dose, asserted Dr. Willi Kalender from the Institute of Medical Physics at the Friedrich-Alexander University, Erlangen-Nuremberg, Germany.
The development of computer-based decision support systems for all points of the scanning process would also help reduce doses, for example by preventing doctors from ordering duplicate scans and ensuring optimum protocol selection on the machines. In addition, sophisticated simulators could let radiologists experiment with noise and contrast to assess new potential protocol variations before trying them on patients. And innovations in methods used to assemble images from the data collected by the scan (image reconstruction) could reduce doses even further while maintaining imaging quality.
The field would also greatly benefit from evidence-based clinical guidelines on CT use, which so far have been lacking, said Dr. Hedvig Hricak of Memorial Sloan-Kettering Cancer Center.
The second day of the conference concluded with the generation of priorities for agencies, including NIH, that could supply future grant funding in this area of research. Recommendations from three working groups convened during the conference are being prepared for publication. These recommendations will focus on "how to leverage this wealth of information, how to harvest these ideas, and how to translate them to practical benefits and improvements for the health care enterprise and for the nation," concluded NIBIB Director Dr. Roderic Pettigrew.