The Downside of Diagnostic Imaging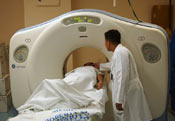 Modern diagnostic imaging has revolutionized medicine. In a matter of seconds, a computed tomography (CT) machine can produce extremely detailed images of any part of the body. Nuclear medicine tests, such as positron emission tomography (PET) or the technetium-based stress tests used widely in cardiovascular medicine, let doctors observe the inner workings of cells and tissues.
CT and nuclear medicine tests do have a downside, however: they deliver doses of ionizing radiation from 50 to over 500 times that of a standard x-ray, such as a chest x-ray or mammogram. Scientists have raised concerns that such large doses of radiation plus the widespread and increasing use these diagnostic procedures may, in a small but significant way, pose a cancer risk in the general population.
Data from several studies released in the second half of 2009 have helped to quantify this risk and the pace at which it is growing.
Unacceptable on the Job, but Not in the Clinic?
In the United States, people exposed to radiation at their jobs are monitored and limited to an effective dose of 100 millisieverts (mSv) every 5 years (an average of 20 mSv per year, with a maximum of 50 mSv in any single year). The concept of effective dose and the mSv measurement estimate the potential future risk of cancer from radiation exposure.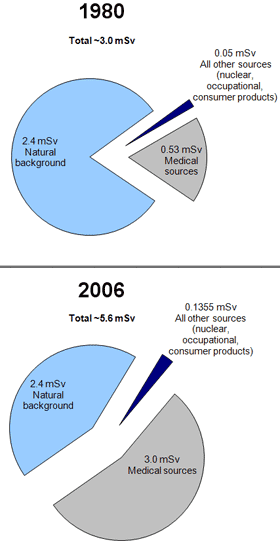 However, the available evidence indicates that most patients exposed to radiation from diagnostic imaging are not subject to similar monitoring or exposure limits. In a study published in the New England Journal of Medicine in August 2009, researchers led by Dr. Reza Fazel of the Emory University School of Medicine examined the medical records of 952,420 people in four states from 2005 through 2007 to estimate the number of people who might receive radiation doses from diagnostic imaging at a level that would cause concern in an occupational health setting.
In that 3-year period, their patient sample underwent more than 3 million imaging procedures delivering radiation exposure. Almost 194 per 1,000 people each year received moderate radiation doses (between 3 and 20 mSv). Almost 19 per 1,000 received high doses (between 20 and 50 mSv), and almost 2 per 1,000 received very high doses (over 50 mSv) each year. Using this data, the authors estimated that about 4 million Americans each year receive radiation doses higher than 20 mSv from medical imaging.
Worldwide Exposure
These data are particularly concerning, experts say, given the continuing increase in the use of imaging procedures using ionizing radiation both in the United States and worldwide. A report published November 2009 in Radiology using data from the U.S. National Council on Radiation Protection and Measurements and the United Nations Scientific Committee on the Effects of Atomic Radiation concluded that, worldwide, the annual effective radiation dose per capita from medical imaging has doubled in the past 10 to 15 years. The increase in the United States was much greater than anywhere else in the world.
The authors, led by Dr. Fred A. Mettler of the New Mexico Veterans Administration Health Care System reported that, in the United States, this dose increased by about sixfold between 1980 and 2006. Over the past 56 years, the estimated number of annual radiologic and nuclear medicine procedures increased by about 15-fold.
"The use of CT in particular has gone up dramatically, and we've drastically lowered the threshold for using it," said Dr. Rebecca Smith-Bindman, a visiting research scientist with NCI's Radiation Epidemiology Branch (REB). "There's a general belief that if you get a CT scan, you must be reasonably sick and must really need it. This is no longer true, and we are increasingly using CT scans in patients who are not that sick. There's been drift not only in how often we use it but in how we use it."
"We've only talked about the benefits of CT for the past 20 years, without considering any potential harm" she continued. "I'm hoping the medical community can start a dialogue about when it should be used. CT is a fabulous test, but we have to use it prudently and only when there is clear evidence of benefit that outweighs its potential harm."
Considering Benefit, Reducing Harm
The medical community has proposed numerous ways to reduce radiation exposure from diagnostic medicine without negatively impacting the quality of patient care. (See the box at the end of the article.)
The failure to optimize and standardize diagnostic protocols and techniques was highlighted recently in a study led by Dr. Smith-Bindman, published in the December 2009 Archives of Internal Medicine. She and her colleagues gathered data on radiation dose from CT scanning at four hospitals, all of which used equipment from the same manufacturer.
Even with this homogeneity in CT equipment, the researchers observed a mean 13-fold variation between the lowest and highest radiation doses seen in each type of CT study measured, both within and across the four institutions. This variation is due to different institutions and individual physicians choosing different technical parameters on the machines when running similar types of CT scans done for similar indications, explained the authors.
"There are no standards set for what's an acceptable radiation dose for different types of scans, and no group is monitoring the radiation doses patients receive," said Dr. Smith-Bindman. "Thus, the variation in dose is high and unacceptable. With available technology we could lower the doses by 30 to 50 percent immediately, but there's currently no mandate to do this."
Epidemiological Studies Underway
Performing epidemiological studies of cancer risk from diagnostic imaging requires researchers to follow hundreds of thousands of patients for decades. That is why, to date, estimates on cancer risk from diagnostic imaging have relied on modeling studies.
Researchers are now performing the first epidemiological studies of this kind. One study, being led by Dr. Elaine Ron of NCI's Radiation Epidemiology Branch (REB) in collaboration with Dr. Mark Pearce from Newcastle University in the United Kingdom, is following over 250,000 people who were less than 22 years old at the time of their first CT scan. The researchers are tracking cancer incidence and mortality in this population and expect to have preliminary data available in approximately 2 years.
A second REB study is following a similar population in Israel (50,000 people who were less than 18 years old at the time of their first CT scan), in collaboration with Dr. Gabriel Chodick of Maccabi Healthcare Services. There are plans to pool the data from these two studies with data from additional studies planned in Europe, Australia, and Canada "to provide a reasonable picture of the risk from childhood CT scans," said Dr. Berrington de González.
The Coming Storm?
In addition to measuring variability in dose, Dr. Smith-Bindman and her colleagues used data from the National Research Council to estimate the number of excess cancers expected to develop from exposure to high-dose diagnostic imaging. Their results suggested that 1 in 270 women and 1 in 600 men undergoing CT heart scans (a potentially high-dose procedure) at the age of 40 will develop cancer related to that CT scan.
Lower-dose imaging procedures carried lower risks, but increased risks nonetheless. When these tests were performed in younger patients, the risks were higher.
In the same issue of Archives, Dr. Amy Berrington de González, also of REB, and her colleagues used National Research Council data to estimate the number of excess cancers expected to be caused by CT scans performed in the United States in 2007.
Their research estimated that approximately 29,000 future cancers could be related to CT scans performed in the United States in that year alone, with women being at higher risk than men. About 35 percent of these cancers were projected to be related to scans performed in patients 35 to 54 years old, and 15 percent related to scans performed in children younger than 18.
"It's becoming more widely accepted that this is a potential problem and a growing problem," said Dr. Berrington de González.
"The three cornerstones of radiological protection are justification of all tests, optimization of how the tests are performed, and having some sort of diagnostic reference level so that we know if a test is done at too high a dose," said Dr. Andrew Einstein from the departments of medicine and radiology at Columbia University. "I think we can make advances on all three of those fronts in terms of the amount of radiation that our patients receive and decrease the collective doses to [patients in] the United States and worldwide."
The medical community has proposed many ways to reduce radiation exposure from diagnostic medicine without negatively impacting the quality of patient care:
Reduce the number of CT exams by using other technologies (such as ultrasound or MRI) in cases where they would provide equal diagnostic quality.
Limit the use of CT in healthy patients who would obtain little benefit (such as whole-body CT screening).
Limit the use of repeat CT surveillance of patients in whom a diagnosis has already been made, when repeat scanning would lead to little change in their treatment.
Tailor the radiation dose carefully to a patient's individual size. This point, which is particularly important for children, has recently been addressed by The Alliance for Radiation Safety in Pediatric Imaging's national Image Gently campaign.
Educate both doctors and patients about radiation exposure from diagnostic imaging. In a 2004 survey, nearly all physicians polled significantly underestimated radiation doses from a CT scan.
Track and collect information on radiation exposure for individual patients through a system such as the International Atomic Energy Agency's proposed Smart Card digital record system.
Improve communication between doctors as a patient moves through the diagnostic process to avoid unnecessary imaging and repeated imaging in different departments or hospitals.
Optimize and standardize diagnostic protocols and techniques to limit exposure from any individual procedure.