Extramural vs Intramural and RMS Funding
The NCI Budget has decreased by $105.6 million—or 2.1%—since 2011. For most extramural activities, funding has decreased, particularly for SPOREs and Other P50s/P20s. There has been a slight increase in extramural funding for NRSA, R&D Contracts, and Buildings and Facilities between FY 2011 and FY 2015. During this time, intramural research funding has increased to comprise 17% of the total NCI budget, but Research Management and Support (RMS) has decreased.
The following is a comparison broken out by mechanism and total between Extramural dollars spent vs Intramural and RMS.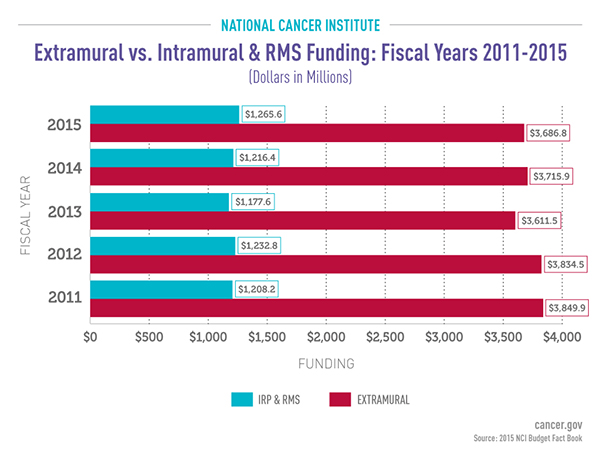 FY 2011-2015 Extramural, Intramural and RMS Funding
(Dollars in Millions)
Funding
Mechanism
2011
2012
2013
2014
2015
2011-2015 % Change
Extramural
Research Project Grants
$2,163.7
$2,150.6
$2,000.2
$2,012.6
$2,092.6
-3.3%
Cancer Centers
278.3
279.9
262.2
281.8
288.6
3.7%
SPOREs
121.9
113.5
104.3
104.6
102.7
-15.8%
Other P50s/P20s
35.2
33.4
22.2
18.2
5.8
-83.5%
Other Specialized Centers
162.7
186.0
145.3
139.2
112.3
-31.5%
Other Research Grants
425.5
407.5
387.5
430.0
410.1
-3.6%
NRSA
67.7
66.0
65.8
69.2
69.8
3.1%
R&D Contract
587.0
589.7
616.0
652.3
597.0
1.7%
Buildings & Facilities
7.9
7.9
7.9
8.0
8.0
1.3%
Total Extramural Funds
3,849.9
3,834.5
3,611.5
3,715.9
3,686.8
-4.2%
Intramural & RMS
Intramural Research
833.7
857.8
811.6
845.0
843.2
1.1%
RMS
374.5
374.9
366.1
371.4
422.5
12.8%
Total IRP & RMS Funds
1,208.2
1,232.8
1,177.6
1,216.4
1,265.6
4.8%
Total NCI
$5,058.1
$5,067.3
$4,789.1
$4,932.3
$4,952.5
-2.1%