FDA Approves First Therapeutic Cancer Vaccine
The field of cancer immunotherapy received an important boost with the FDA's approval of the first therapeutic cancer vaccine, sipuleucel-T (Provenge). The vaccine was approved for use in some men with metastatic prostate cancer based on the results of a phase III randomized trial called IMPACT that demonstrated a more than 4-month median improvement in overall survival compared with a placebo vaccine. However, because of the way in which the vaccine is produced, its availability will be very limited for at least the first 12 months.
Approval of the vaccine by the FDA is important on several levels, said Dr. Philip Kantoff, director of the Lank Center for Genitourinary Oncology at the Dana-Farber Cancer Institute and the IMPACT trial's principal investigator. "This represents the first proof of principle that immunotherapy works and can work in cancer in general," he said. "I'm hopeful that investigators will look at this as an opportunity to build upon these findings and improve upon them with other treatment strategies."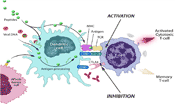 From a clinical perspective, Dr. Kantoff continued, many men with advanced prostate cancer whose tumors are no longer responding to hormonal therapy—often called hormone-resistant or castration-resistant cancer—now have a new, relatively nontoxic treatment option. The only other approved treatment for such patients is the chemotherapy drug docetaxel (Taxotere), which, on average, improves overall survival by 2.4 months. The vaccine offers "meaningful benefits for patients," Dr. Kantoff said. "It's not a cure for cancer, of course, but it does provide a significant clinical benefit."
The FDA requested IMPACT, which enrolled more than 500 men with metastatic, castration-resistant prostate cancer who were asymptomatic or mildly symptomatic, to support approval of sipuleucel-T. Overall survival was the primary endpoint. According to the most updated trial results, presented in March at the American Society of Clinical Oncology Genitourinary Cancers Symposium, sipuleucel-T improved median 3-year survival by nearly 40 percent compared with placebo (32.1 percent versus 23 percent), with a median improvement in overall survival of 4.1 months (25.8 months versus 21.7 months). These results have yet to be published in a peer-reviewed journal.
The approval validates the concept of an active treatment approach such as immunotherapy, which is intended to train the immune system to attack cancer cells and potentially get a response "that can last for months or even years down the road," said Dr. James Gulley of NCI's Center for Cancer Research, who has led several clinical trials of a different therapeutic vaccine for prostate cancer. (See the sidebar.)
Despite the approval and several decades of research, Dr. Gulley acknowledged that immunotherapy is still an emerging field. "We're just now learning how to develop potent-enough vaccines, what patient populations they are most appropriate for, and how to augment them by adding other therapies," he said.
A Different Paradigm
The FDA's decision marks the end of a somewhat tumultuous 15-year journey for sipuleucel-T and the company that developed it, Seattle-based Dendreon.
In 2007, the FDA declined to approve the vaccine based on results from two smaller randomized phase III trials in which the immune-stimulating treatment also demonstrated a modest improvement in overall survival, but did not meet the primary endpoint of improved survival without tumor growth, typically called progression-free survival. In that earlier decision, the FDA went against a recommendation for approval from its Cellular, Tissue, and Gene Therapies Advisory Committee, sparking criticism from several quarters, including many in the prostate cancer advocacy community.
Failure to approve the vaccine at that time gets to the heart of the difference between immunotherapy and other cancer treatments, explained Dr. Charles Drake, an immunotherapy researcher and co-director of the Prostate Cancer Multi-Disciplinary Clinic at the Johns Hopkins Sidney Kimmel Comprehensive Cancer Center.
The available data on immunotherapy, he said, "suggest that it establishes a new balance" in patients. With the vaccine's assistance, "the immune system restricts the growth of the tumor. Some tumor cells might be dying, but generally the tumor has to fight harder to grow, and the immune system is more able to fight back to keep it in check," he explained.
Unlike some other therapeutic cancer vaccines under development, sipuleucel-T is customized to each patient. In the days prior to treatment, patients undergo a procedure called leukapheresis to isolate antigen-presenting cells (APCs) from their blood. These APCs include dendritic cells and macrophages, among other cells, that can "present" markers, or antigens, on their surfaces that are recognized by other immune cells, thereby sparking an immune response.
The APCs are sent to a Dendreon facility where they are cultured with a proprietary manufactured protein. The end result is a vaccine with hundreds of millions of "activated" APCs loaded with an antigen commonly found on most prostate cancer cells, called prostatic acid phosphatase (PAP). The vaccine is returned to the patient's treating physician and infused into the patient, with the intent of spurring powerful immune system cells, T cells, to neutralize tumor cells that express PAP. Patients receive three treatments over the course of 4 to 6 weeks, with each round requiring the same manufacturing process.
Another Vaccine, a Different Approach
NCI researchers Dr. Gulley and Dr. Jeffrey Schlom have led the development of another prostate cancer vaccine called Prostvac that will be tested in an international phase III clinical trial expected to launch in late 2010. Prostvac was given a fast-track designation by the FDA, a move intended to expedite its development and regulatory review.
In two separate phase II randomized clinical trials, Prostvac, much like sipuleucel-T, improved overall survival but not progression-free survival. In one trial, also led by Dr. Kantoff and which included men with metastatic, castration-resistant prostate cancer who were mildly symptomatic, the therapeutic vaccine improved median overall survival by 8.5 months compared with a placebo vaccine.
Unlike sipuleucel-T, Prostvac, which is being commercialized by the German company Bavarian Nordic as part of a collaborative research and development agreement with NCI, is a more traditional "off-the-shelf" treatment, explained Dr. Gulley, who will be the principal investigator on the much larger phase III trial.
Prostvac uses two viruses as delivery vehicles, or vectors, as well as other molecules known to stimulate the immune system. Each viral vector encodes prostate-specific antigen (PSA), which is commonly found on prostate cancer cells. So the vaccine is actually two different viral vectors combined with co-stimulating molecules: The first, vaccinia-PSA-TRICOM, is given once, via injection, to prime the immune system for an anticancer response, and the second, fowlpox-PSA-TRICOM, is delivered (also via injection) several times for repetitive immune boosting.
Early Challenges
Initially, the vaccine's manufacturing requirements will limit its impact on patients, Dendreon officials acknowledged. Currently, the company has only one licensed manufacturing facility in New Jersey, which is operating at 25 percent capacity. Two other manufacturing facilities, one in Georgia and the other in California, are expected to be completed and receive approval from the FDA to manufacture the vaccine by mid-2011, meaning that for the first 12 months "the demand will exceed the supply," said Dendreon CEO Dr. Mitch Gold during a telephone briefing.
For the first year, the treatment will be available to approximately 2,000 patients at 50 oncology and urology clinics that were approved sites for the sipuleucel-T clinical trials, company officials explained. The three-course treatment will cost $93,000, which the company expects will be covered by private insurers and Medicare.
There is also the question of how to optimally use the vaccine. In the IMPACT trial, Dr. Drake explained, there was no pre-designated point to define disease progression that warranted additional therapy—namely docetaxel—after completion of sipuleucel-T treatment. In some cases, docetaxel wasn't given until patients became highly symptomatic, he said, while in others it was given shortly after the vaccine treatment was completed.
"This agent is not like traditional chemotherapy in terms of its side effects or in terms of causing obvious tumor shrinkage or declines in [prostate-specific antigen]," Dr. Drake said. "So when do you move onto the next step, chemotherapy or a clinical trial? We honestly don't know the answer to that yet."
Sipuleucel-T is being tested in several other clinical trials, including a phase III study called PROTECT, that involves men with early-stage, nonmetastatic prostate cancer. Earlier-stage disease is likely the optimal setting for immunotherapy, researchers in the field believe.
"Having something approved allows us to start those trials," Dr. Drake stressed. "It allows us to use vaccines in combination with other therapies. Because we know from animal models that immunotherapy can be at least additive and sometimes synergistic with other therapies, this [approval] gives us legs to go earlier and with combinations."