NCI and the Precision Medicine Initiative®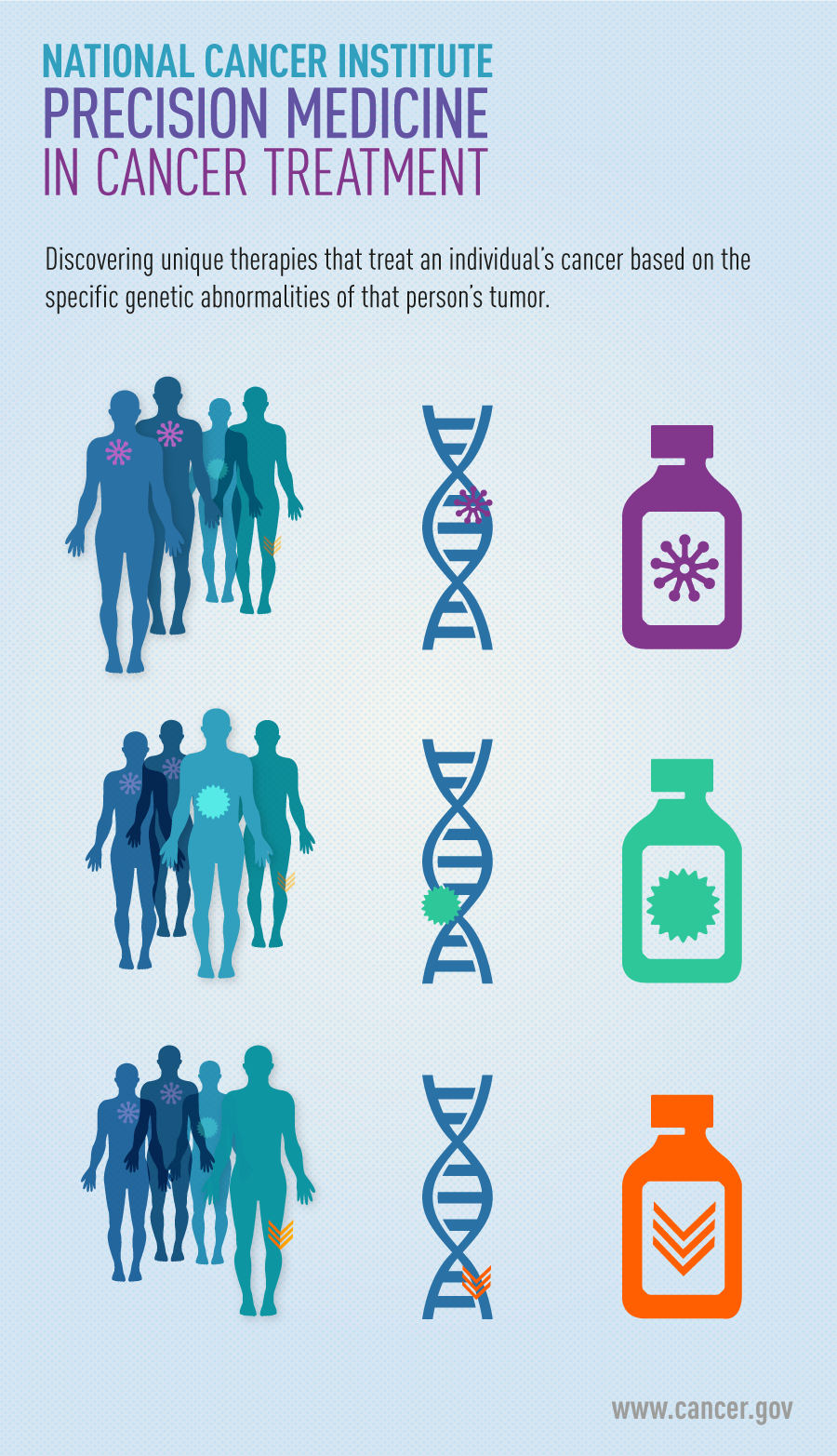 The Precision Medicine Initiative® (PMI) is a $215 million investment in the Fiscal Year 2016 Budget to accelerate biomedical research and provide clinicians with new tools to select the therapies that will work best in individual patients. The PMI®'s $70 million in funding for NCI is being used to advance the field of precision oncology. Other disease areas will be included over the longer term.
Oncology is a natural choice as the initial focus for this ambitious initiative. Precision medicine uses the genetics of disease to identify effective therapies, and, thanks in large part to NCI-supported research, we know that cancer is a disease of the genome.
Oncology is already well along the path to precision medicine. NCI has launched a series of precision medicine clinical trials since 2014, many genetically targeted therapies are currently available to cancer patients, and many more are expected to become available in the near future.
The National Institutes of Health, the Food and Drug Administration, and the Office of the National Coordinator for Health Information Technology also have major roles in the PMI®.
NCI is focusing its PMI® activities on four broad areas:
Expanding Precision Medicine Clinical Trials

Precision medicine clinical trials assign patients to therapy based on the genetic alterations that are thought to be driving their cancer. Over the past 2 years, in partnership with both the public and private sectors, NCI has launched several precision medicine trials.

Under the PMI®, NCI will continue a first-of-its-kind precision medicine trial: NCI-MATCH. In this clinical trial, adult patients are assigned to targeted treatments based on the genetic abnormalities in their tumors, regardless of the type of cancer they have.

The possible expansion of the trial under the PMI® will include adding new genetically targeted therapies to which patients can be matched and expanding the number of genetic alterations being studied in the trial.

The PMI® will also make it possible to accelerate planning for the NCI Pediatric MATCH trial, which is expected to open in 2017.

Overcoming Drug Resistance

NCI is increasing its support of research into the difficult problem of treatment resistance: when tumors initially respond to treatment but eventually begin to grow again. Under the PMI®, this involves:

Using tumor profiling to better understand how patients' tumors become resistant to cancer therapy
Establishing a repository of laboratory models derived from patient tumor samples that will enable researchers to more thoroughly investigate drug resistance

Developing New Laboratory Models for Research

NCI's efforts to develop new laboratory models of human cancer includes vastly increasing the number of human cancer cell lines (grown as two-dimensional and three-dimensional cultures) and patient-derived tumor xenografts. These new models will help researchers gain new insights into tumor biology and better predict patients' responses to cancer treatment.

NCI is also conducting studies to better understand, at the molecular level, what drives the response to immune-based treatments, commonly called immunotherapy, and to identify opportunities that may permit broader use of this treatment approach.

Developing a National Cancer Knowledge System

NCI is establishing a national database to house and integrate genomic information from tumors with clinical response data (e.g., tumor shrinkage) and outcomes information (e.g., length of survival) as a resource for scientists, health care professionals, and patients.

This is the knowledge system envisioned in a 2011 Institute of Medicine report, Toward Precision Medicine, which called for a comprehensive database that would be useful to researchers as well as clinicians actively treating patients.
Taken together, NCI's new and expanded precision medicine research programs are intended to accelerate the pace of discovery and bring additional benefits to cancer patients.
By expanding on earlier successes in cancer genomics, partnering with patients nationwide who participate in NCI-sponsored clinical trials, and extending precision medicine principles into basic science research and biomedical information technology activities, the PMI® is enabling NCI to advance precision oncology more quickly and efficiently than originally planned or anticipated.