A Snapshot of Colorectal Cancer
Incidence and Mortality
Colorectal cancer is the third most common non-skin cancer in both men and women. It is the second leading cause of cancer-related mortality in the United States. Over the past decade, colorectal cancer incidence and mortality rates have decreased in all racial/ethnic populations except American Indians/Alaska Natives. Men and women have similar incidence rates through age 39; at and above age 40, rates are higher in men.
Differences exist between racial/ethnic groups in both incidence and mortality. African Americans have higher mortality rates than all other racial/ethnic groups and higher incidence rates than all except American Indians/Alaska Natives. Incidence and mortality rates are lowest among Hispanics and Asians/Pacific Islanders. Overall colorectal cancer incidence and mortality rates have been declining over the past two decades; these declines have been attributed largely to increased use of screening tests.
Risk factors for colorectal cancer include increasing age, colorectal polyps, a family history of colorectal cancer, certain genetic mutations, excessive alcohol use, obesity, being physically inactive, cigarette smoking, and a history of inflammatory bowel disease. Effective colorectal cancer screening tests include the fecal occult blood test, sigmoidoscopy, and colonoscopy. Standard treatments for colorectal cancer include surgery, chemotherapy, radiation therapy, cryosurgery, radiofrequency ablation, and targeted therapy.
Assuming that incidence and survival rates follow recent trends, it is estimated that $13.8 billion1 will be spent on colorectal cancer care in the United States in 2014.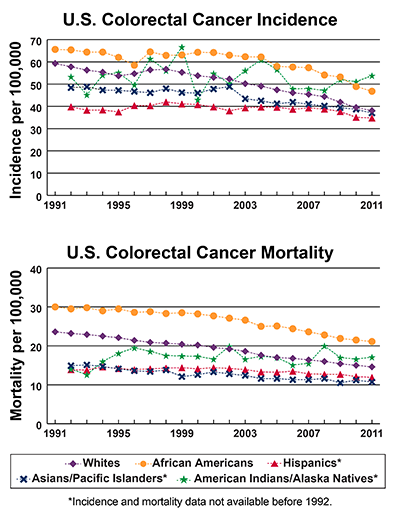 NCI's Investment in Colorectal Cancer Research
To learn more about the research NCI conducts and supports in colorectal cancer, visit the NCI Funded Research Portfolio (NFRP). The NFRP includes information about research grants, contract awards, and intramural research projects funded by NCI. When exploring this information, it should be noted that approximately half of the NCI budget supports basic research that may not be specific to one type of cancer. By its nature, basic research cuts across many disease areas, contributing to our knowledge of the underlying biology of cancer and enabling the research community to make advances against many cancer types. For these reasons, the funding levels reported in NFRP may not definitively report all research relevant to a given category.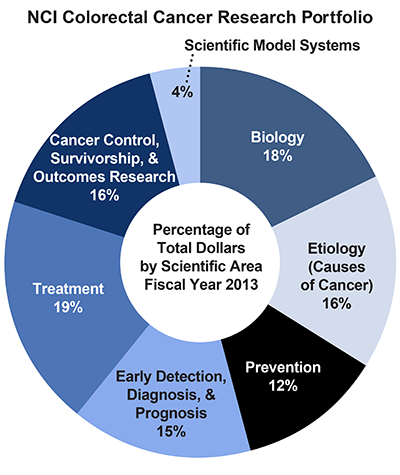 Other NCI programs and activities relevant to colorectal cancer include:
The Population-based Research Optimizing Screening through Personalized Regimens (PROSPR) program is supporting multisite, coordinated, transdisciplinary research on cancer screening to better understand how to improve the screening process, including recruitment, diagnosis, and referral for treatment. Three sites are focusing on colorectal cancer screening.
The PREVENT Cancer Preclinical Drug Development Program is supporting efforts to move cancer preventive chemical and biological agents and biomarkers from preclinical development toward clinical trial testing. Several projects are studying colon cancer prevention through preclinical development of small molecule inhibitors, identification of biomarkers of cancer, and vaccine development.
NCI is supporting Preventing Adenomas of the Colon with Eflornithine and Sulindac (PACES), a phase III trial that is investigating whether treatment with sulindac (a nonsteroidal anti-inflammatory drug) and/or eflornithine (an experimental agent) reduces the risk of developing an adenoma or a second primary colorectal cancer in patients previously treated for colon cancer.
The Division of Cancer Epidemiology and Genetics is conducting population and multidisciplinary research to discover the genetic and environmental causes of cancer and new approaches to cancer prevention, including several studies on colorectal cancer.
The Clinical Proteomic Tumor Analysis Consortium is characterizing the entire set of proteins expressed by various cancer types, including colorectal tumors, and integrating this information with genomic data from The Cancer Genome Atlas program. The results of this research will provide a better understanding of cancer biology and facilitate the discovery of protein targets with diagnostic and therapeutic utility.
Five gastrointestinal-cancer-specific Specialized Programs of Research Excellence (SPOREs) are conducting translational research on gastrointestinal system cancers, including colorectal cancer.
Selected Advances in Colorectal Cancer Research
Additional Resources for Colorectal Cancer
---