Rectal Cancer Treatment (PDQ®)–Patient Version
General Information About Rectal Cancer
Key Points
Rectal cancer is a disease in which malignant (cancer) cells form in the tissues of the rectum.
Health history affects the risk of developing rectal cancer.
Signs of rectal cancer include a change in bowel habits or blood in the stool.
Tests that examine the rectum and colon are used to detect (find) and diagnose rectal cancer.
Certain factors affect prognosis (chance of recovery) and treatment options.
Rectal cancer is a disease in which malignant (cancer) cells form in the tissues of the rectum.
The rectum is part of the body's digestive system. The digestive system takes in nutrients (vitamins, minerals, carbohydrates, fats, proteins, and water) from foods and helps pass waste material out of the body. The digestive system is made up of the esophagus, stomach, and the small and large intestines. The colon (large bowel) is the first part of the large intestine and is about 5 feet long. Together, the rectum and anal canal make up the last part of the large intestine and are 6-8 inches long. The anal canal ends at the anus (the opening of the large intestine to the outside of the body).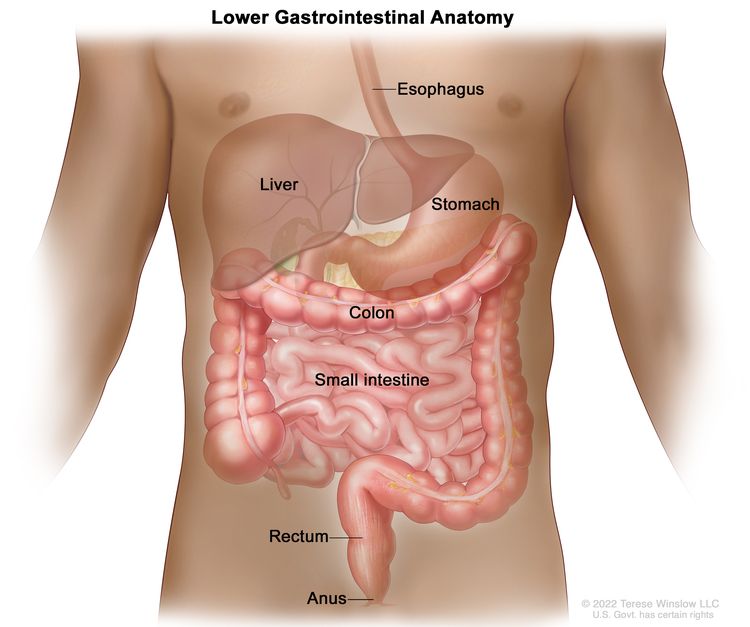 See the following PDQ summaries for more information about rectal cancer:
Health history affects the risk of developing rectal cancer.
Anything that increases your chance of getting a disease is called a risk factor. Having a risk factor does not mean that you will get cancer; not having risk factors doesn't mean that you will not get cancer. Talk to your doctor if you think you may be at risk for colorectal cancer.
Risk factors for colorectal cancer include the following:
Older age is a main risk factor for most cancers. The chance of getting cancer increases as you get older.
Signs of rectal cancer include a change in bowel habits or blood in the stool.
These and other signs and symptoms may be caused by rectal cancer or by other conditions. Check with your doctor if you have any of the following:
A change in bowel habits.

Feeling that the bowel does not empty completely.
Stools that are narrower or have a different shape than usual.

Change in appetite.
Weight loss for no known reason.
Feeling very tired.
Tests that examine the rectum and colon are used to detect (find) and diagnose rectal cancer.
Tests used to diagnose rectal cancer include the following:
Physical exam and history: An exam of the body to check general signs of health, including checking for signs of disease, such as lumps or anything else that seems unusual. A history of the patient's health habits and past illnesses and treatments will also be taken.
Digital rectal exam (DRE): An exam of the rectum. The doctor or nurse inserts a lubricated, gloved finger into the lower part of the rectum to feel for lumps or anything else that seems unusual. In women, the vagina may also be examined.
Colonoscopy: A procedure to look inside the rectum and colon for polyps (small pieces of bulging tissue), abnormal areas, or cancer. A colonoscope is a thin, tube-like instrument with a light and a lens for viewing. It may also have a tool to remove polyps or tissue samples, which are checked under a microscope for signs of cancer.

Enlarge

Colonoscopy. A thin, lighted tube is inserted through the anus and rectum and into the colon to look for abnormal areas.

Biopsy: The removal of cells or tissues so they can be viewed under a microscope to check for signs of cancer. Tumor tissue that is removed during the biopsy may be checked to see if the patient is likely to have the gene mutation that causes HNPCC. This may help to plan treatment. The following tests may be used:

Reverse transcription–polymerase chain reaction (RT–PCR) test: A laboratory test in which the amount of a genetic substance called mRNA made by a specific gene is measured. An enzyme called reverse transcriptase is used to convert a specific piece of RNA into a matching piece of DNA, which can be amplified (made in large numbers) by another enzyme called DNA polymerase. The amplified DNA copies help tell whether a specific mRNA is being made by a gene. RT–PCR can be used to check the activation of certain genes that may indicate the presence of cancer cells. This test may be used to look for certain changes in a gene or chromosome, which may help diagnose cancer.
Immunohistochemistry: A laboratory test that uses antibodies to check for certain antigens (markers) in a sample of a patient's tissue. The antibodies are usually linked to an enzyme or a fluorescent dye. After the antibodies bind to a specific antigen in the tissue sample, the enzyme or dye is activated, and the antigen can then be seen under a microscope. This type of test is used to help diagnose cancer and to help tell one type of cancer from another type of cancer.

Carcinoembryonic antigen (CEA) assay: A test that measures the level of CEA in the blood. CEA is released into the bloodstream from both cancer cells and normal cells. When found in higher than normal amounts, it can be a sign of rectal cancer or other conditions.
Certain factors affect prognosis (chance of recovery) and treatment options.
The prognosis (chance of recovery) and treatment options depend on the following:
The stage of the cancer (whether it affects the inner lining of the rectum only, involves the whole rectum, or has spread to lymph nodes, nearby organs, or other places in the body).
Whether the tumor has spread into or through the bowel wall.
Where the cancer is found in the rectum.
Whether the bowel is blocked or has a hole in it.
Whether all of the tumor can be removed by surgery.
The patient's general health.
Whether the cancer has just been diagnosed or has recurred (come back).
Stages of Rectal Cancer
Key Points
After rectal cancer has been diagnosed, tests are done to find out if cancer cells have spread within the rectum or to other parts of the body.
There are three ways that cancer spreads in the body.
Cancer may spread from where it began to other parts of the body.
The following stages are used for rectal cancer:

Stage 0 (Carcinoma in Situ)
Stage I
Stage II
Stage III
Stage IV
Treatment Option Overview
Key Points
There are different types of treatment for patients with rectal cancer.
Six types of standard treatment are used:

Surgery
Radiation therapy
Chemotherapy
Active surveillance
Targeted therapy
Immunotherapy

Other types of treatment are being tested in clinical trials.
Treatment for rectal cancer may cause side effects.
Patients may want to think about taking part in a clinical trial.
Patients can enter clinical trials before, during, or after starting their cancer treatment.
Follow-up tests may be needed.
Treatment Options by Stage
To Learn More About Rectal Cancer
For more information from the National Cancer Institute about rectal cancer, see the following:
For general cancer information and other resources from the National Cancer Institute, see the following:
About This PDQ Summary
About PDQ
Physician Data Query (PDQ) is the National Cancer Institute's (NCI's) comprehensive cancer information database. The PDQ database contains summaries of the latest published information on cancer prevention, detection, genetics, treatment, supportive care, and complementary and alternative medicine. Most summaries come in two versions. The health professional versions have detailed information written in technical language. The patient versions are written in easy-to-understand, nontechnical language. Both versions have cancer information that is accurate and up to date and most versions are also available in Spanish.
PDQ is a service of the NCI. The NCI is part of the National Institutes of Health (NIH). NIH is the federal government's center of biomedical research. The PDQ summaries are based on an independent review of the medical literature. They are not policy statements of the NCI or the NIH.
Purpose of This Summary
This PDQ cancer information summary has current information about the treatment of rectal cancer. It is meant to inform and help patients, families, and caregivers. It does not give formal guidelines or recommendations for making decisions about health care.
Reviewers and Updates
Editorial Boards write the PDQ cancer information summaries and keep them up to date. These Boards are made up of experts in cancer treatment and other specialties related to cancer. The summaries are reviewed regularly and changes are made when there is new information. The date on each summary ("Updated") is the date of the most recent change.
The information in this patient summary was taken from the health professional version, which is reviewed regularly and updated as needed, by the PDQ Adult Treatment Editorial Board.
Clinical Trial Information
A clinical trial is a study to answer a scientific question, such as whether one treatment is better than another. Trials are based on past studies and what has been learned in the laboratory. Each trial answers certain scientific questions in order to find new and better ways to help cancer patients. During treatment clinical trials, information is collected about the effects of a new treatment and how well it works. If a clinical trial shows that a new treatment is better than one currently being used, the new treatment may become "standard." Patients may want to think about taking part in a clinical trial. Some clinical trials are open only to patients who have not started treatment.
Clinical trials can be found online at NCI's website. For more information, call the Cancer Information Service (CIS), NCI's contact center, at 1-800-4-CANCER (1-800-422-6237).
Permission to Use This Summary
PDQ is a registered trademark. The content of PDQ documents can be used freely as text. It cannot be identified as an NCI PDQ cancer information summary unless the whole summary is shown and it is updated regularly. However, a user would be allowed to write a sentence such as "NCI's PDQ cancer information summary about breast cancer prevention states the risks in the following way: [include excerpt from the summary]."
The best way to cite this PDQ summary is:
PDQ® Adult Treatment Editorial Board. PDQ Rectal Cancer Treatment. Bethesda, MD: National Cancer Institute. Updated <MM/DD/YYYY>. Available at: https://www.cancer.gov/types/colorectal/patient/rectal-treatment-pdq. Accessed <MM/DD/YYYY>. [PMID: 26389378]
Images in this summary are used with permission of the author(s), artist, and/or publisher for use in the PDQ summaries only. If you want to use an image from a PDQ summary and you are not using the whole summary, you must get permission from the owner. It cannot be given by the National Cancer Institute. Information about using the images in this summary, along with many other images related to cancer can be found in Visuals Online. Visuals Online is a collection of more than 3,000 scientific images.
Disclaimer
The information in these summaries should not be used to make decisions about insurance reimbursement. More information on insurance coverage is available on Cancer.gov on the Managing Cancer Care page.
Contact Us
More information about contacting us or receiving help with the Cancer.gov website can be found on our Contact Us for Help page. Questions can also be submitted to Cancer.gov through the website's E-mail Us.