Chemotherapy Side Effects Series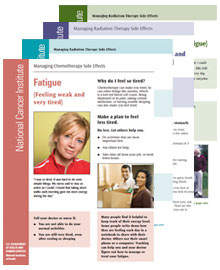 Chemotherapy Side Effect Series has practical steps and advice to help you manage eighteen (18) different side effects from chemotherapy, so you feel better during treatment:
These colorful sheets also include lists of questions to help you talk with your health care provider to learn more. Health conditions that may need urgent medical care are also highlighted. These sheets are designed to strengthen your consultation with your health care provider.
Related Product
Promotional Flyer for Health Professionals to Give to Patients